What are the major differences between WordPress.com vs WordPress.org?
Have you ever think, they are providing unique services in the web hosting industry?
These are the simple questions that arise when you are a beginner in WordPress.
When I started my WordPress journey, I remember I came across WordPress.com and WordPress.org. I thought somehow these 2 names are for the same purpose as you can see the Top Level Domain only changes, the brand name is the same.
Major difference quick view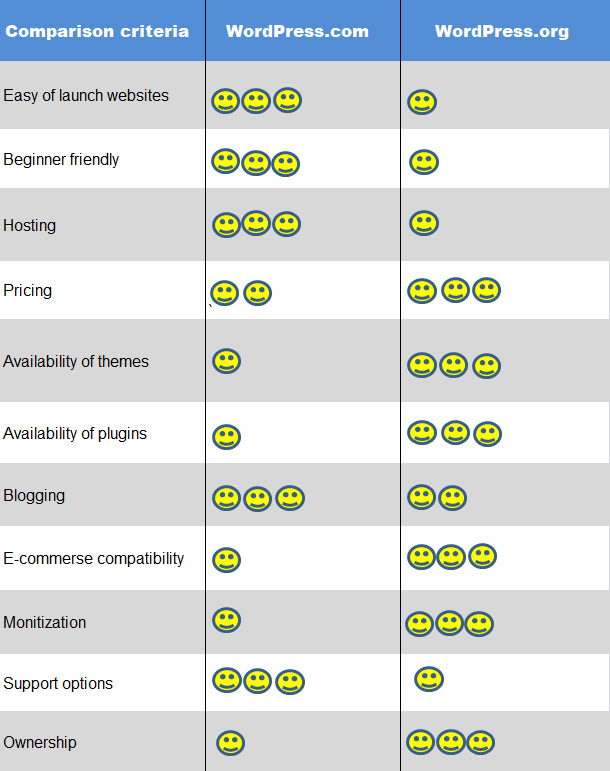 Let's differentiate two of WordPress.com vs WordPress.org
The purpose of both platforms is the same. Yes! They are providing web hosting services either you have to purchase or host in free terms. For obtaining a proper clarification on the difference between WordPress.com vs WordPress.org platforms, I have divided into some points that included all the aspects.
We have comprehensively approached this article so that you can decide which platform is suitable for you.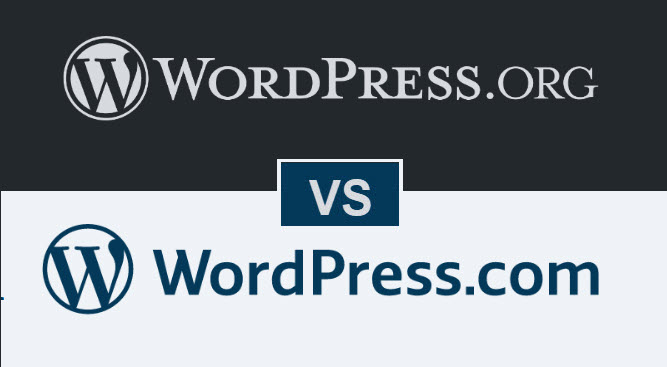 We have also included Infographic representation so that you can identify the key difference between WordPress.com vs WordPress.org.
Additional read:
WordPress.com vs WordPress.org (Infographic)
WordPress.com vs WordPress.org Comparison
This section will give a fair idea of what is WordPress.com and WordPress.org platforms. Why separate each other with different Top Level Domains? Both are website builders with unique feature sets. Let's dive into more feature differences.
WordPress.com
It is a platform for hosting a website in a web-based manner as you can see wix.com, Weebly, Squarespace. These online platforms are providing services to launch your website immediately by selecting the plan and also there are free plans available with free domain names.
Let's check the plans of WordPress.com

Quick pros and cons of WordPress.com vs WordPress.org
Pros of WordPress.com
The free plan consists of 3GB of space provided by WordPress.com. After 3GB you have to move to other plans which are mentioned above. You will get additional space along with other features.
The updates will get instantly, if you forget to update WordPress.com will do for you.
The backup process is also easy with WordPress.com. The same also gets done by them.
Cons of WordPress.com
When compared to WordPress.org, there are some drawbacks experiences during free version usage.
WordPress.com is solely proprietary of WordPress itself, so no one can guarantee your website will remain for tomorrow. As they can remove whenever you have violated the policy of WordPress.com.
The domain name in the free plan will be https://yoursite.wordpress.com. Where a premium plan can give yo https://yourdomain.com web address.
There is a promotion link powered by WordPress.com and only can eliminate you have to upgrade into a business plan.
The free version does not support the E-commerce website build. The feature will only unlock when you change your plan into an E-commerce one.
The major drawback of WordPress.com is the placement of advertisements in the free plan. You have to grade in order to get rid of the ads.
The free themes and custom CSS only can be used with premium plans. Free plans do not have this feature. But you can select the themes within the free theme list.
As far as considering the monetizing method with WordPress.com with a free plan, is nearly impossible. If you have a high traffic site in WordPress.com, they provide WordAds and the profit will be shared with each other. Whereas premium and business plan users can use this ad option right away.
The major disadvantage comes with the free version of WordPress.com. So there are many ways to monetize your blog with WordPress.com if you are in a premium or higher plan.
We are in halfway to the WordPress.com vs WordPress.org Comparison
What is WordPress.org?
WordPress.org is a self-hosted platform for launching a website, which is the most popular CMS in the world. You have to download the package in order to build the website. You can host a demo site for checking the features on the local machine. It is a so-called self-hosting service. Here we have to ensure that where should we place the website files and your WordPress website files.
Yes! You are only responsible for hosting the files on a server or locally. The web hosting and domain name will only cost for constructing any WordPress powered websites.
The package from WordPress.org is 100% free and open-source, so you can build any custom themes or plugin as per your requirement which can be redistributed.
The software is available for both Windows and Linux platforms.
Next, we are going to see WordPress.org Pros and cons.
Pros of WordPress.org
The list of WordPress.org is quite high, compared with WordPress.com. Because you have full control over your website and its hosting space.
Full control over self-hosted websites. You can customize as per your requirement without worrying the restriction
100% free software and freedom for customizing your themes and plugins.
Can develop the WordPress themes and plugin and can be sold to others.
Unlimited free themes option in all categories.
Easy launch of membership sites.
E-commerce versions can be implemented in easy steps.
A number of methods are available for monetizing your blog/website.
Can connect the ad network and monetize it without sharing the profit to anyone.
No coding experience required for launching a site.
Free drag and drop page builders are available.
Website statistics like google analytics can be embedded in the WordPress site.
The cons can be listed for WordPress.org.
The WordPress website requires a hosting platform, which is quite expensive.
The WordPress site can only update by clicking the update button, which is your headache.
The backup of your website should also be taken care of by the user. Backup plugins also do this part.
We have compared the cost and pros and cons of WordPress.com vs WordPress.org. Now we can see other aspects such as website building, beginner-friendly, web hosting, Availability of themes, Availability of plugins
Blogging, E-commerce compatibility, Support options, etc.
Website building
WordPress.com
The WordPress.com platform will give you an easy and beginner-friendly approach to building a new website. Here each and every step you will ask for setup questions and you have to give
You can log in to WordPress.com either filling the forms or with Gmail id. After the login, the page will redirect you to some questions pages as shown below.
Your website will be ready within a couple of minutes. The webpage URL either you can purchase the domain or you can opt suggested free option, that will be like wordpressdemo.blog or WordPress.demo.online.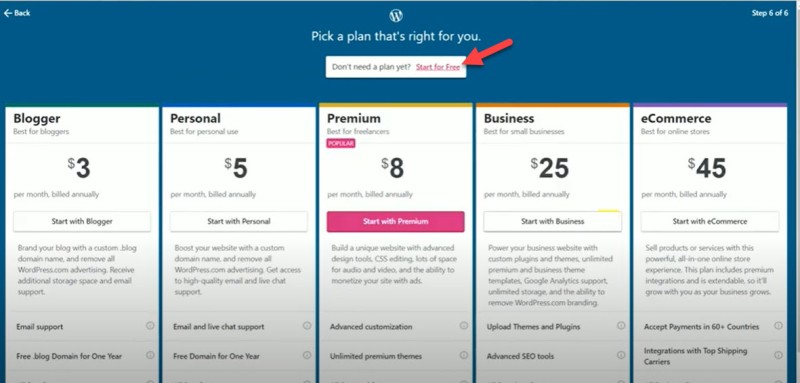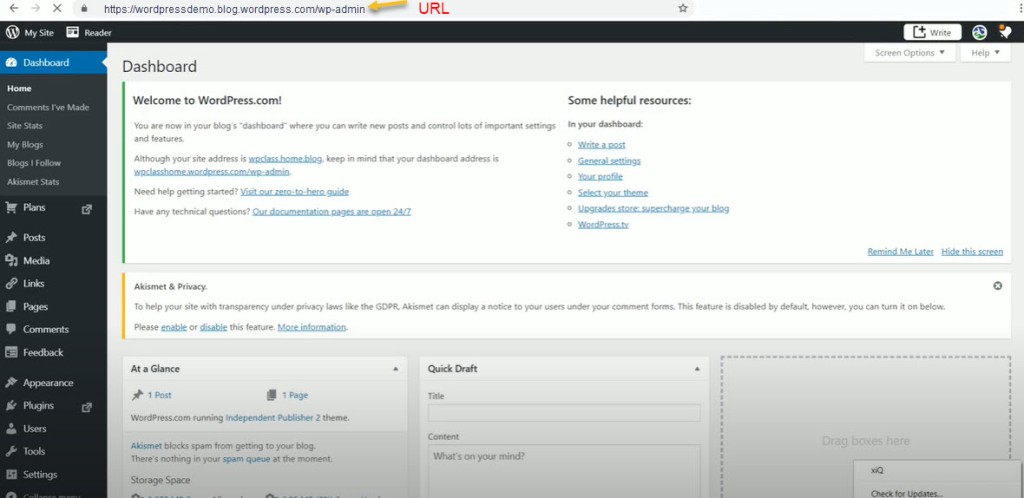 Next, we can see the installation steps of WordPress.org
WordPress.org
I have already discussed that WordPress.org is providing a software package that will give access to building web pages. For checking the Local installation of WordPress in windows check here.
You can download the package from the official website of WordPress.org.
After downloading the package, insert the document root of your webserver. There are several web servers that have Database, PHP, web server software. Apache, Litespeed, Nginx, IIS are the web servers and Mysql, Mariadb, MSSQL, etc is database software, included with PHP support.
I have already said you have to set up either local webserver setup or can purchase the space from hosting providers like Bluehost, Hostinger, Hostgator, GreenGeeks, etc. The plan will include a domain name which is the online brand name of your WordPress website.
Visit Bluehost official website.
Then create a Bluehost account and start the initial process of purchasing a domain name and plan for the hosting.
Below images will lead you to complete the WordPress website within couple of minutes.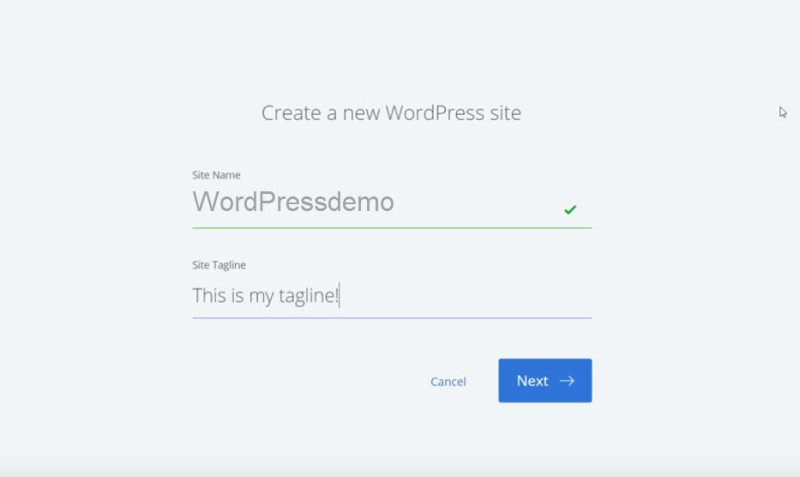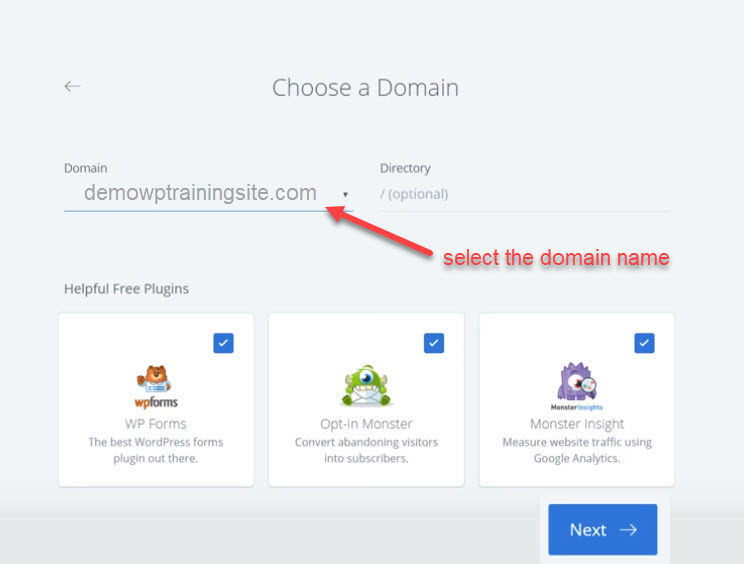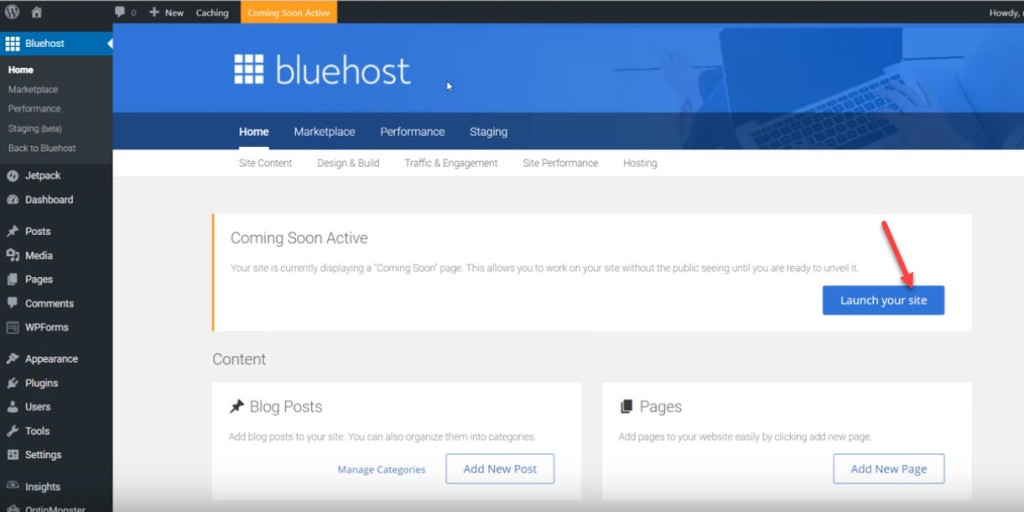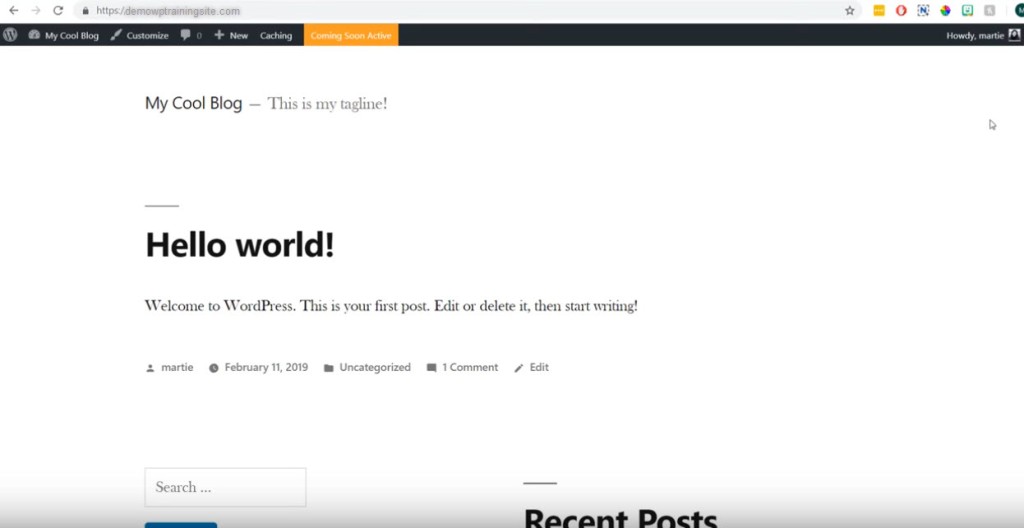 The control panel of your hosting provider will allow you to launch the WordPress website in a couple of minutes.
Verdict
WordPress.com is having a more flexible platform for launching your website and WordPress.org is taking more time than WordPress.com. We can opt for the free domain name from the .com and directly launch the website.
Where WordPress.org has the time consuming to find the right hosting provider and needs investment to unlock your website.
Web Hosting
Web hosting is the process of loading your website files in a web server.
WordPress.com is providing web hosting and also can launch the website for free and not to pay for space up to 3GB. Yes, after 3Gb you have to purchase the plans.
WordPress.org is that much free for getting your website online. Web Hosting is so important and has to be purchased from any hosting company. We can see how much is required for launching a self-hosting website.
Availability of themes
WordPress.com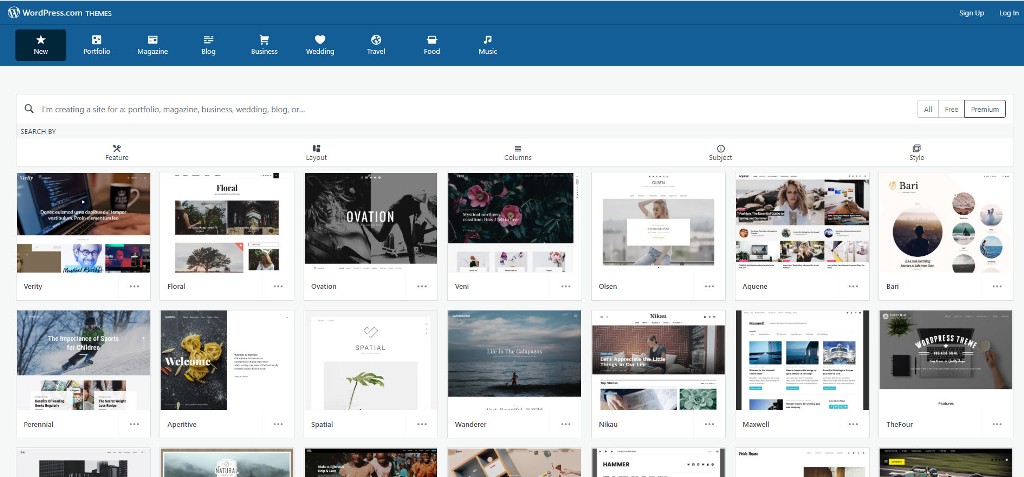 There are a limited number of themes available for WordPress.com for free plans. They are providing 75+ free themes out of 180 themes. If you upgrade your plan to a higher level, you can opt and also launch an E-commerce website as you want. They will allow you to apply custom CSS and theme edit in business or higher plans.
WordPress.org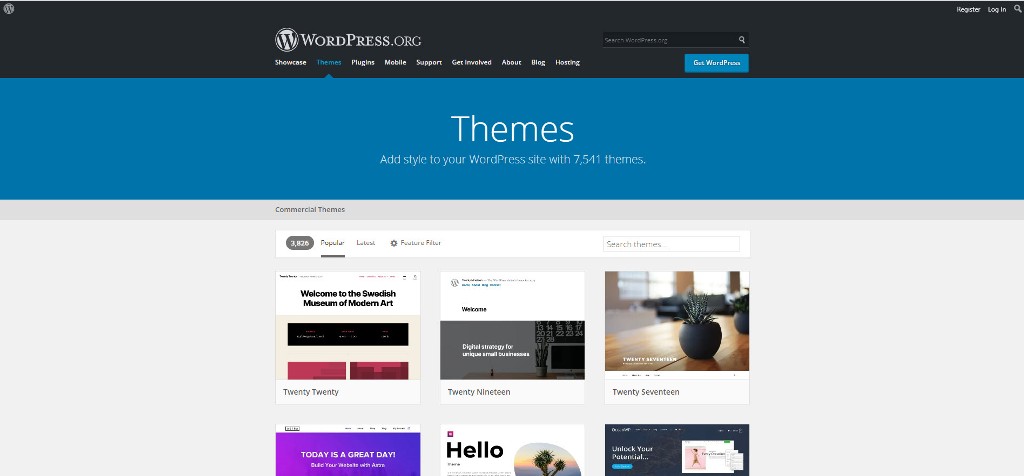 They provide more than 2500 themes and are still growing the themes collection. Also, other WordPress developers are also providing other than wordpress.org websites, such as ThemeForest who have 10k+ in their collection.
Verdict
WordPress.org is the clear winner in theme collection. According to the number from WordPress.com is very less and you love the collection provided by WordPress.org
Availability of plugins
The plugins are important because they will help you to extend your website features. We can see the collection of plugins provided by both WordPress.com and WordPress.org
WordPress.com
WordPress.com will only provide you to install plugins only after the business plan or E-commerce plan. More than 50k is available during this plan. As you can see the premium, business, or E-commerce plan cost will be $3 to $15.
WordPress.org
WordPress.org provides over 50k plugins and can install the free as well as paid plugins. The free service of plugins will lack the advanced feature, still works better even for security and backup no matter which plans you selected for hosting.
Which one will you choose from WordPress.com vs WordPress.org in this segment?
WordPress.org will give you much more functionality over plugins. The number of plugins will talk to you directly and no matter which plans you have selected. So the complete star rating will go to WordPress.org platform.
Blogging
The blogs are providing engaging content to readers. The blogs either can be a part of a business website or occupy individually. In both ways, we have to launch it online to attract readers and monetize the blog. In this segment, we will see how to suit blogging.
WordPress.com
WordPress.com is suitable for bloggers, who can start writing right away after launching a website. If you are fully concentrating on building a blogger platform, WordPress.com stands out of the crowd. The free plan itself with a custom domain is enough for launching a blog and establishing an online presence.
WordPress.org
It is an all in one pack, which can define any way you can. If you want to make your own website or blog, WordPress.org has your options. There are several themes and plugins for launching an individual blog or website. Publishing a blog post, adding images, videos, comment section, social share buttons are the key features required for the blog. This all can be available by using plugins.
Verdict
WordPress.com is out of the box for blogging, so this platform is a clear winner in this segment.
E-commerce compatibility
WordPress.com
This platform will only feature when you enroll in an E-commerce plan, where you will unlock the product selling features. Coming into the plan cost around $15/month for the particular feature and for this you have to pay every month.
WordPress.org
This platform normally does not provide the inbuilt feature of E-commerce. But this feature can be avail with the plugins such as WC marketplace and Woo-commerce. These are the most popular website plugins for E-commerce. The plugin can be helpful for enabling the online selling design and setting a product store with add on features.
Verdict
For this comparison there is WordPress.org is in number one. Because there are more extendible features with bulk selling of products that can be possible with this. It can also be stated that the method of monetization will decide which platform will help you out. WordPress.com can be used for advertising with $8 and remove the badge of wordpress.com.
Support options
WordPress.com
Here you are not supported by the WordPress specialist teams if you are enabled with a free plan. The Email & Basic Live Chat Support will enable Personal, Premium, Business, eCommerce plans. 24/7 Priority Live Chat Support and Personalized Expert Support Sessions for business and E-commerce plans only.
But for free plans, users can use the forum support on the internet.
WordPress.org
WordPress.org doesn't have any specialized support team, because the software is completely free. But you can take support from forums as well. The support is mostly carried out by the technical team from the hosting provider. The plan will decide how they will support in this regard. If you are in a premium plan you will get chat and voice support.
I think the basic plan of the hosting provider will give you site support if your website crashes while changing the setup. The time duration of the support will change according to the plans.
Verdict
As I mentioned above the extensive support provided by WordPress.com is starting from a personal plan. So in this regard no doubt WordPress.com is taking care of technical issues. Where WordPress.org is only giving developer support or forum support which is a co-ordinated action, still worth you are problem-solving.
Monetization
As far as talking with all the aspects we will have to discuss the monetization methods on both platforms.
WordPress.com
Here you are not able to enter any ad network for free. For availing such options you have to upgrade to a personal plan onwards.
The free plan will display the WordPress ads on your webpage. This can not be removed at any cost.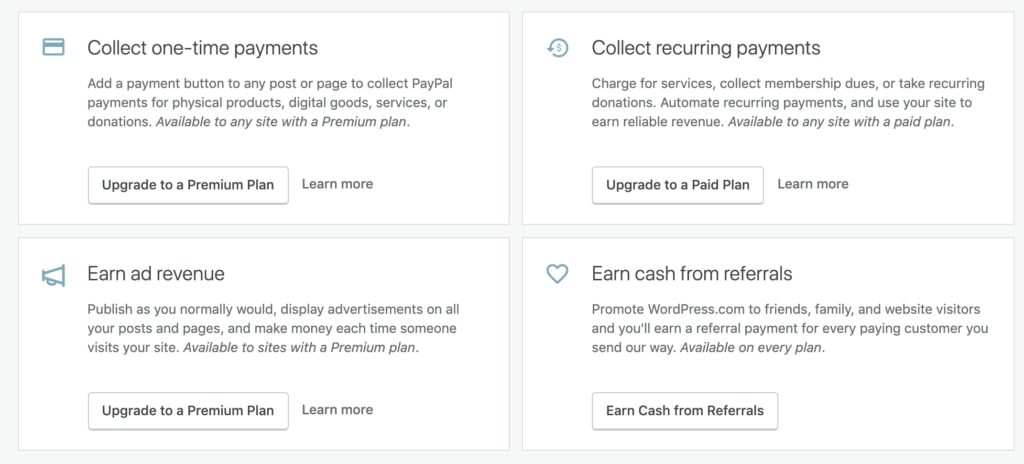 WordPress.org
It can be monetized as per your requirement. If you are an affiliate marketer then add affiliate links to your blog. The methods are unlimited and can succeed if you have sufficient visitors on your website.
There is no need to share your profit as seen on WordPress.com. Here Google ranking and visitors also matter a lot.
Affiliate Links in your pages
Google Ads
Sell your own Digital Products
Sell your physical products
Introduce Online courses
Sell Direct Ads
Who is the winner for monetizing?
WordPress.org is the winner. As you can see, more options are available to get passive earnings from the website.
Ownership of the websites
WordPress.com has a set of rules and if you violate these rules will lead you to ban from the internet without any verification. So you are very careful to upload your contents and carefully read their terms of use before entering the platform.
WordPress.org is always owned by you. The hosting space, domain name, the WordPress website files, etc is yours. So no need to worry about the terms of use and you have to read the terms of hosting providers, because if you are an exploiter eventually you will be a threat to others. This insecurity will lead to suspension of domain or mail id if excessive spamming occurs.
Verdict
WordPress.org is the clear winner because you can control your activities and no one will say do not do this type of content delivery.
Final words
I can simply state the words when you will start using WordPress.com and WordPress.org versions.
WordPress.com
If you are a less technical person.
Small business group
Who require support for WordPress
Monetization only next option
WordPress.org
Anyone can opt this platform
Technical savvy can develop imaginary designs
Should hire a coder for more custom themes and CSS codes
E-commerce options with an unlimited feature enabling easily
Medium or large business groups
Monetization is your first priority
Thus we had seen the differences between WordPress.com vs WordPress.org. Within this, I like mostly WordPress.org platform because as per your imagination and tech-savvy mindset you can develop your site unique and user friendly very easily. This is a completely free software to build up. Only the domain and hosting space you need to spare the money.
WordPress.com vs WordPress.org (FAQs)
There are several questions that may be arisen while reading this article. So we have included some of the questions and answers for getting a clear picture of these two.
WordPress.com vs WordPress.org – Which one is better for E-commerce?
For enabling bulk order and extensive features will be given by WordPress.org platform. While there is a separate plan introduced for WordPress.com which costs around $15.
Can I migrate from WordPress.com to WordPress.org?
Definitely you can migrate. Most people don't know this option. These platforms are really under the same organization, so you can easily move your content from WordPress.com to WordPress.org without any hustle.
Can I Monetize the Free WordPress.com Website?
The monetization methods are already explained in detail. As you can see free WordPress.com would not allow for ad placement in the pages. You have a limited number of options for monetizing your WordPress.com website.
The affiliate link will work for you to monetize the website.
Which is the best platform for bloggers?
If you are not looking to monetize your blog currently, you can opt WordPress.com platform. Because there you can get a free domain which is under wordpress.com or separately like wordpress.blog.online, which is useful for beginners who are passionate about blogging.