Are you thinking, why I have come up with only 7 numbers of WordPress security plugins out of 900+ plugins?
Because you are advised to try N number of plugins for any other purposes. Now it is the time to secure your WordPress website. Then there is no time to waste, just find the security plugin, install, configure it. That's all.
Because, every second count, that's it from my side.
What will come first when you go on vacation? Yes, If the whole family is going with you then who will take care of the security of your house. Then we will arrange a security guard if we already have a guard, no problem. Then we will inform the Police station, which is near to you. Or rely on the security equipment that you have invested to monitor throughout the day even when you are outside.
The security measures are certain practices to stop the attacker from going inside. The first intuition will stop when seeing the poster that the area is under surveillance cameras. So we may think most of the time the methods are effective all day.
The technology is so developed you can control the device activities even if you are abroad. Thus the police officials can find the intruder in an easy manner.
The WordPress website is the same as your home, which has well-arranged contents to live with it. Some times we give more importance to our blogs.
Small or large business entities the importance of websites is high. Your bread and butter relied on the website. Hence security also matters all the time. The major investment for a website will be hosting, domain name, Themes, Plugins, Web-app implementation, mobile app, human resources. So when it comes to a security breach the webmaster will lose certain things which I will mention here.
The investment on the website development
The credibility of the website will decrease
The drop in website traffic
Customer will never share sensitive data with you
The buyer interest will fade eventually
The sales will decrease
The ads income drops
No one will interest in your ads
No one will endorse your products
So the final outcome is to shut down the website completely or relaunch it after putting your security belt strong.
If you are dealing with the eCommerce websites, the pain of losing customers will be high and the revenue will drastically drop after the security breach.
Website security first comes with the secured hosting provider and second comes in your hand. We had made a security checklist for optimum results.
Check out our infographics for enhancing your website security.
WordPress itself has tons of security features out of the box. But as compared with the security plugins it has no matches.
In this article, I will list out who are the market leaders and their current market shares in terms of installation and reviews in the segment of WordPress security plugins.
The reason for hacking is always mattered and these are the major reasons for hacking.
Let's get started with WordPress security plugins
There are tons of WordPress security plugins available. Choosing the top 20 plugins is very much easy to list. But according to my experience, you are not suggested to try each and every plugin, instead of industry-leading security plugins will do for extreme protection.
Another important thing to note down that you have to check all the other parameters that you can do personally from your end. That means tweaking .htaccess, changing of wp-admin login URL, login username change, Json file restrict from displaying the username. I have written a comprehensive article that explains how you can manually change some settings for establishing another layer of protection of your WordPress website.
What are the Major things done by the security plugins?
Activity monitoring
Keep logs of all activities
File scanning
Firewall protection
Login protection
Security enhancements for a vulnerability found by their team
Notifies login attempts to the user
Help to regain the hacked website
Extensive support for brute force protection
The top 7 best WordPress security plugins at a glance
| Security Plugin Name | Active Installations | Rating |
| --- | --- | --- |
| Wordfence Security | 3+ million | 4.8 |
| iThemes Security | 9,00,000+ | 4.7 |
| All In One WP Security & Firewall | 8,00,000+ | 4.8 |
| Sucuri Security | 7,00,000+ | 4.5 |
| BulletProof Security | 60,000+ | 4.8 |
| WP fail2ban | 50,000+ | 4.7 |
| Google Authenticator-Two Factor Authentication | 20,000+ | 4.5 |
We will discuss the features of how to protect your WordPress site from hackers.

Wordfence Security is the product from Defiant Inc. Wordfence is the most popular WordPress security plugins in the market. Check out their active installations and ratings. Wordfence comes with both free and premium plugins. The free itself is a power pack and comes with extensive robust protection from the hackers and gives real-time measures of traffic insights with login attempts.
Another interesting fact about the Wordfence is that their R&D team evaluates every aspect of security flaws and periodically reports to the technology firms. The major findings include Google Site Kit Vulnerability during April 2020 and other findings you may find from their blog.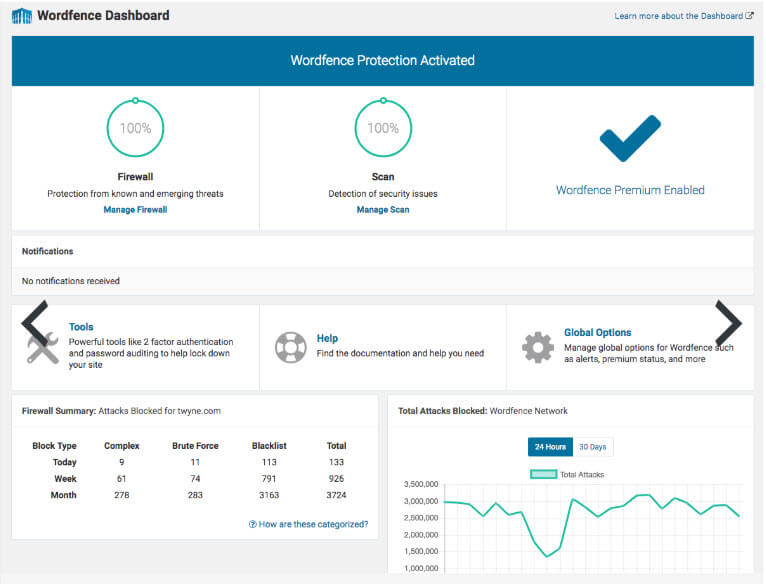 Check out the latest features of Wordfence security plugin
Enhanced Web Application firewall for detecting the malicious traffic and blocks them instantly.
Brute force attack protection
Malware scanning
Separate plugin available for stop comment spam.
Regardless of WordPress files, it scans all the folders
Tracking and alert for password breach and warns the user to change the password immediately
Logs each every authenticated login and notified over mail to the administrator
Alerts known vulnerability on the website
Integrated with 2 Factor authentication
Login attempt reporting
The premium version has its own feature enhancements, let's look into this.
Real-time firewall rule and malware signature updates via the Threat Defense Feed (free version is delayed by 30 days).
Real-time IP Blacklist blocks all requests from the most malicious IPs, protecting your site while reducing load.
Real-time malware signature updates via the Threat Defense Feed (free version is delayed by 30 days).
Checks to see if your site or IP has been blacklisted for malicious activity, generating spam, or other security issues.
It helps to block by country
Price
The free version is available
Premium version available on $99 per license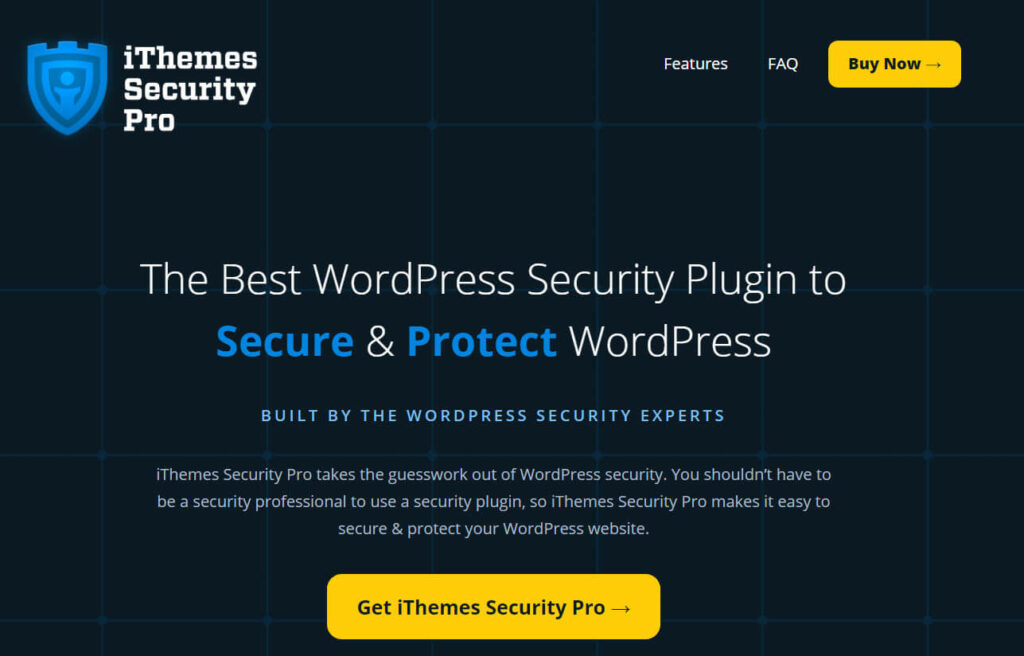 iThemes Security (formerly Better WP Security) is one of the leaders in WordPress security plugins. Another most popular plugins and they offer 30 ways to protect the WordPress websites. This is making them unique in this market. iThemes having both free and pro version and Pro version is more worthy and at an affordable price.
The major features of iThemes security
Compares the WordPress core files with the latest version of the WordPress released
Prevents bot attack
Enables the 2-factor authentications
Malware scanning
WordPress login protection
WordPress security audit
Logs activities on the website
Integrated with Google reCAPTCHA
Password monitoring and reporting
Scheduled WordPress backup
404 detection
"Away mode" helps the administrator lock the dashboard completely if they are not constantly not updating the website.
Limit login attempts
Price
Free version available
Pro version cost – $80 per license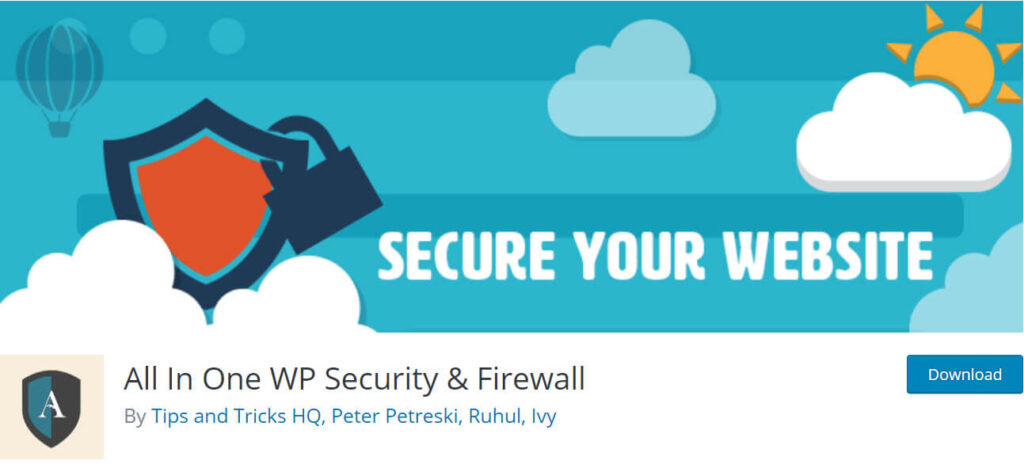 This WordPress security plugin has 8 Lac plus installation and has 4.8 ratings out of 5. All in one WP Security & Firewall ensures the latest security practices over your WordPress website. The periodical vulnerability checks also reduce security risk.
They offer "basic", "intermediate" and "advanced" security and firewall rules so that you can gradually progress the security to reach advanced protection. This free plugin is providing all the major security checks and ensues your WordPress stays protected.
Check out features of All In One WP Security & Firewall security plugin
User monitoring and monitoring tools for blocking users
Changing of admin user is more preferred for enhancing security
Password strength tool for monitoring password
Stops bots/users to get the information of author via permalinks
Brute force attack protection
Force log out all users by configuring the time
Monitor/ view failed logins and their IP address login time, logout time is arranged in an easy manner
Allow integrating the Google reCAPTCHA and Math captcha
Changing the WP_ prefix as your choice
Can schedule a periodic backup of DB
.htaccess and wp-config.php file backup and restore if the site is broken
Comment spam block
Right-click, text selection, copy option disable on the front end.
Pricing
100% Free to use
If support is required from the developer then you will be charged.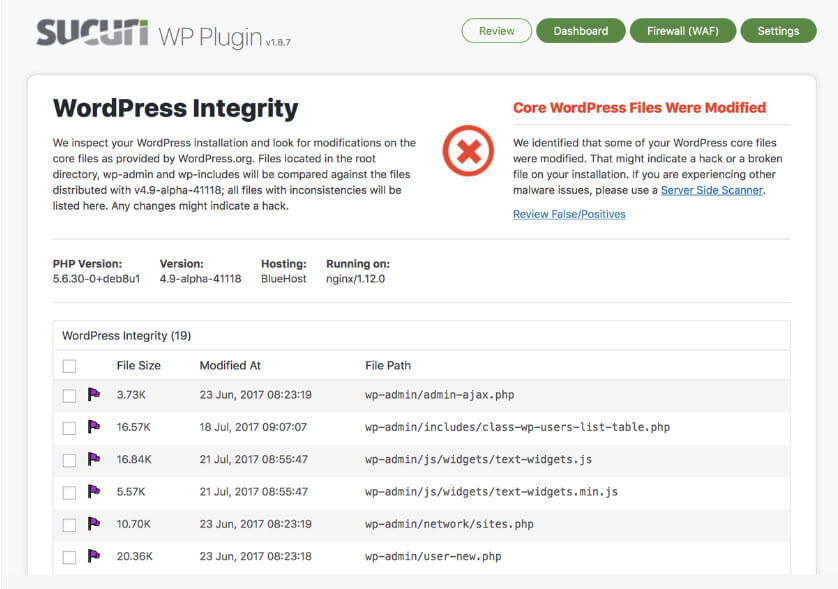 When it comes to the WordPress security plugin list we can't remove the Sucuri. Because they have 7 Lac + active installations and globally recognized face in security technologies.
They offer a free as well as paid plans for protecting your websites. The free plan comes with handy features like security hardening, security audits, malware scanning, security notifications, etc. But comes in premium the firewall option is additional, which is not all webmasters are really looking into this.
The feature list of Sucuri WordPress security plugin
Security Activity Auditing
File Integrity Monitoring
Remote Malware Scanning
Blacklist Monitoring
Effective Security Hardening
Post-Hack Security Actions
Security Notifications
Premium features
WordPress security firewall comes with under mentioned features
Advanced access control
DOS/DDoS protection
Brute force attack protection
Performance optimization
Block exploitation of known vulnerabilities
Pricing
Free plugin available
The price of the premium plan comes with $199/year with 30 days money-back guarantee

According to WordPress.org, the BulletProof security has completed the 60K+ active installations with 4.8 ratings. When it comes to WordPress security the plugin itself is packed with numerous features as compared with other competitors. This plugin released both free and Pro versions.
What are the features included inside the premium segment we will discuss later?
Looking into basic BulletProof security plugin features are Malware scanner, Login Security, DB Backup, Anti-Spam, frontend and backend maintenance mode, Malware scan and firewall protections. The extensive features make the Bulletproof standout and tones of other features here I am listing.
Feature of BulletProof Security
Login security and monitoring
Specific file upload prevention
MScan Malware Scanner
Hidden Plugin Folders or Files Cron (HPF)
Security Logging
DB Table Prefix Changer
UI Theme Skin Changer (3 Theme Skins)
Session log out while idle
Scheduled DB backup
Web firewall protection
Premium features
Auto restore Intrusion Detection & Prevention System (ARQ IDPS)
Quarantine Intrusion Detection & Prevention System (ARQ IDPS)
Real-time File Monitor (IDPS)
MScan Malware Scanner
DB Monitor Intrusion Detection System (IDS)
Uploads Folder Anti-Exploit Guard (UAEG)
PHP Error Logging
Pro Tools: 16 mini-plugins
Price of BulletProof security plugin
If we looking into the pricing the DulletProof stands from the competitors.
The Pro version comes with One Time Purchase Price of $69.95 unlimited websites with a non-recurring yearly cost.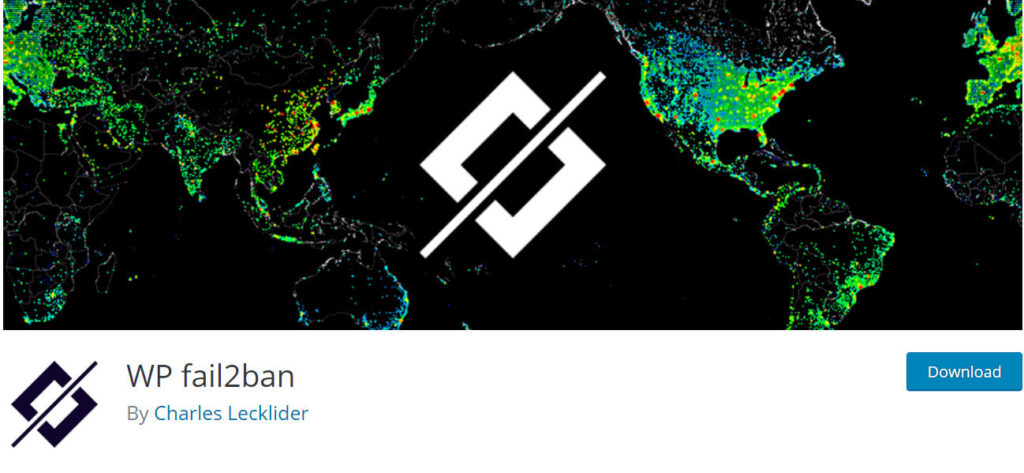 Every plugin explained here is having uniqueness either in working or its feature sets. WP fail2ban is something like a very different plugin. Yes, this plugin giving you protection for brute force attacks. If any plugin which does not need any configuration from the user end is the WP fail2ban.
Yes, I am absolutely correct, single click installation and activation of the plugin will do the rest. The custom ruleset will make the fail2ban more efficient to identify the incoming threats.
The plugin comes with the following filters:
wordpress-hard.conf
wordpress-soft.conf
wordpress-extra.conf
The features of WP fail2ban plugin
Free brute force attack protection
Newly added multi-site protection
Block username logins
Filter for Empty Username Login Attempts
Syslog Dashboard Widget
Support for 3rd-party Plugins – 2 experimented add ons are contact form7, gravity forms
Can be configured with Cloudflare and other proxy networks
Blocks spam comments
Comment event log
Blocking users
The major drawback is the plugin will give you only provide brute force protection. We can use this plugin aside of any security plugin.
Price – Free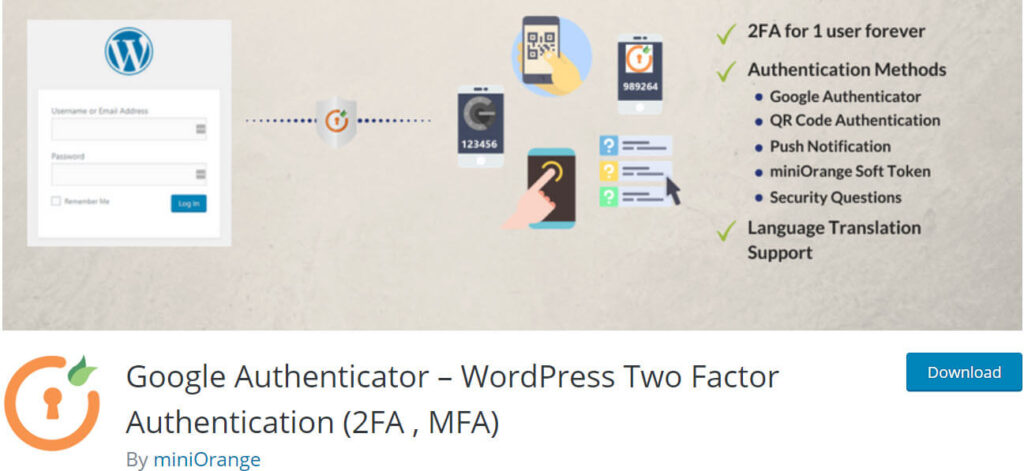 Google Authenticator is the best 2-factor authentication plugin that will give you an additional layer of login protection by allowing the codes or notification to your phone etc. Most WordPress websites are compromised with password breach. If we implement 2-factor authentication for each every login session will be protected and Google authenticator plugin supports up to 3 users for 2FA in free plan.
Let's see the important features of the free version of Google Authenticator
Simple and clutter-free console
Variety of Authentication Methods: Any App supporting TOTP algorithm like Google, Authy, LastPass Authenticator, QR Code, Push Notification, Soft Token, and Security Questions(KBA)
Passwordless login or login with phone number
Two Factor Authentication (2FA) allows authentication on the login page itself for Google Authenticator & miniOrange Soft Token.
Brute force attack prevention & IP Blocking.
User login Monitoring.
Premium plugin features
Available Authentication Methods: Google, Authy, LastPass Authenticator, QR Code, Push Notification, Soft Token, Security Questions(KBA), OTP Over Email, OTP Over SMS, OTP Over SMS and Email, Email Verification, Hardware Token. ( SMS and Email credits need to be purchased as per the need)
Multiple Login Options: Username + password + two-factor (or) Username + two-factor i.e. Passwordless login
Multisite compatible.
Force Two factor for users
Email notification to users asking them to set up Two Factor Authentication (2FA)
Set Privacy Policy for users
Add-Ons Included: RBA & Trusted Devices Management Add-on, Personalization Add-on, and Short Codes Add-on
Price
Google Authenticator – Two Factor Authentication – $5/ user
2 Factor lite – $49/year
In conclusion on WordPress security plugins
There are 7 best WordPress security plugins listed above. It is tough competition among these plugins, right?
Each and every plugin developers improvising their product to set a benchmark. So it is very difficult to identify number one. It is because all the WordPress security plugins are doing a great job of protecting your WP site.
If we say that according to installation record the Wordfence is reached over 3 million and if see the pricing plan the BulletProof is worth of $69.95 for unlimited websites lifetime.
It is up to you my friend because the user needs extensive support then goes for the Premium version. There you need protection in all aspects even when you are sleeping. So meeting all the criteria will be difficult while in free choice. If any security plugin you choose from this list it will be a great selection for sure.
Frequently asked questions
Does WordPress security is really matters?
Yes, WordPress has 58% of the market share in the CMS market. So it is very important to keep you safe from attackers from the malicious practices.
Which plugin will protect my website?
The above said every plugin designed for WordPress website protection. Install and configure any of these plugins before its too late.
Is this plugin alone will give me complete protection?
No, The protection is a series of layers and you have to upgrade the plugin plan for getting extensive features. The site security audit will give you the major drawbacks and security enhancement suggestions by the plugin.
How to secure my WordPress site from hackers?
Install a security plugin and activate other security measures on the website. Also suggesting that to take a periodic backup of all your files and DB.
Can I use 2 security plugin side by side?
It is not recommended to install 2 WordPress security plugins side by side. Please choose a better one within those and if features are limited then upgrade your plan.
Can I run a Website vulnerability test through the WordPress security plugins?
Yes, You can run. The plugins also designed to identify the WordPress core file changes and known vulnerability tests.
What should I do if my WordPress website got hacked?
Primarily switch on the WordPress website maintenance mode. Access the WordPress admin panel scan for any vulnerabilities with security plugins. If you are unable to login to the admin console then contact the security plugin support.