Are you searching for screen capturing and voice-over recordings?
If you want to switch from Camtasia to any other alternatives for your online courses, then you are in the right place. I am going to discuss with you free and paid available software that is completely packed with features and the best alternatives for Camtasia.
The requirement for the videos has increased ever before. The courses are mainly concentrated on online methods.
However not only the course makers are searching for these kinds of tools and webmasters, who manage amazing blogs, also require high-quality screen capture with voice integration.
Camtasia and related screen capturing software can be set up easily and start record screens. You can even present a demo or review your product or PowerPoint presentations.
We can talk a little bit about Camtasia features.
Camtasia is one of the major tools for video editing and screen recording. TechSmith has 2 products, one Snagit and the other one Camtasia.
We will further take a look at Snagit after some time. TechSmith has a 65M+ user base worldwide still growing. Their product is amazing and feature-packed.
Included the video editing tool inside the pack
Allows you to zoom the videos
The feature set included visual adjustments like opacity change, scaling, vision to change the video into more appealing and realistic.
The speed control over video and audio.
Videos can be split, trim, stretched, shorten as per your requirements.
Can record screen capturing videos to make your class more interactive.
A quick review of Camtasia alternatives
Camtasia Alternatives for windows and Mac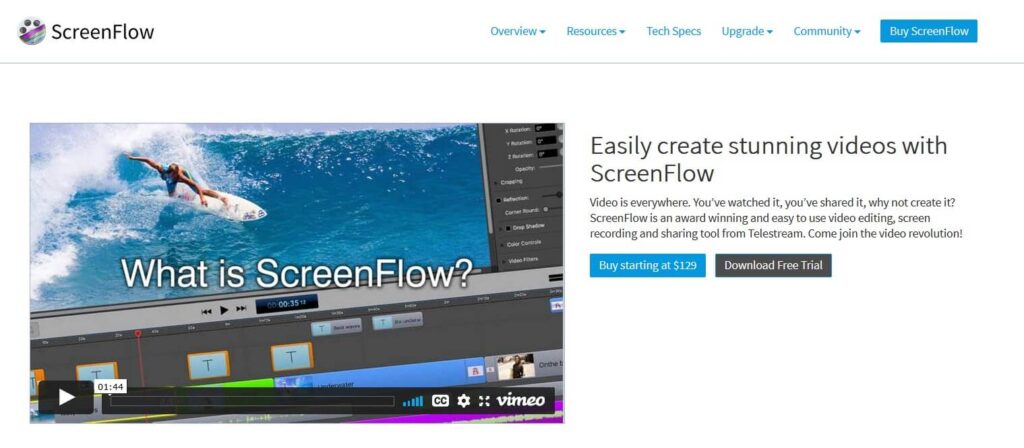 Supported Operating system – Mac
Price tag: Free software available and have a watermark for all exported videos

The paid version starts from $129 to $209
If you are a Mac user then your primary choice for changing the Camtasia would be ScreenFlow by Telestream, Inc. is an affordable screen recorder and video editing software.
The interface of ScreenFlow is easy to use and has a button for 'New Recording' to start capturing with audio.
When it comes to usability the person who required high-quality tutorials, online training, presentations, and product demo presentation definitely go for ScreenFlow.
Within a few clicks, you could deliver amazing videos integrated with sound or music to your courses.
What are the stand out features of ScreenFlow?
iOS recording
Video editing
Media management
Can create professional moton images
MP4 encoding
GIF support
Closed caption support
Publishing options
You could get a first-year subscription for Stock Media Library ( Renews at $60/year)
Multi-screen recording
Pros
Intelligent UI with easy to navigate
Higher quality recordings
Advanced video editing tools
Streamlined media management
Professional Animations and Motions graphics
Cons
Little Pricey those who look for budget software
Quizzes and surveys can not be created
Check out more features in this video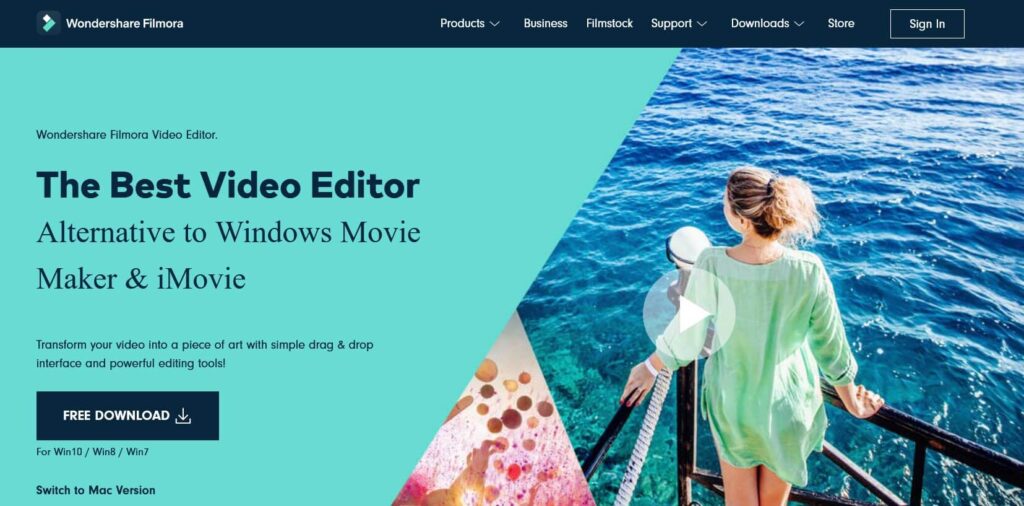 Supported Operating system – Windows and Mac
Price : Free with watermark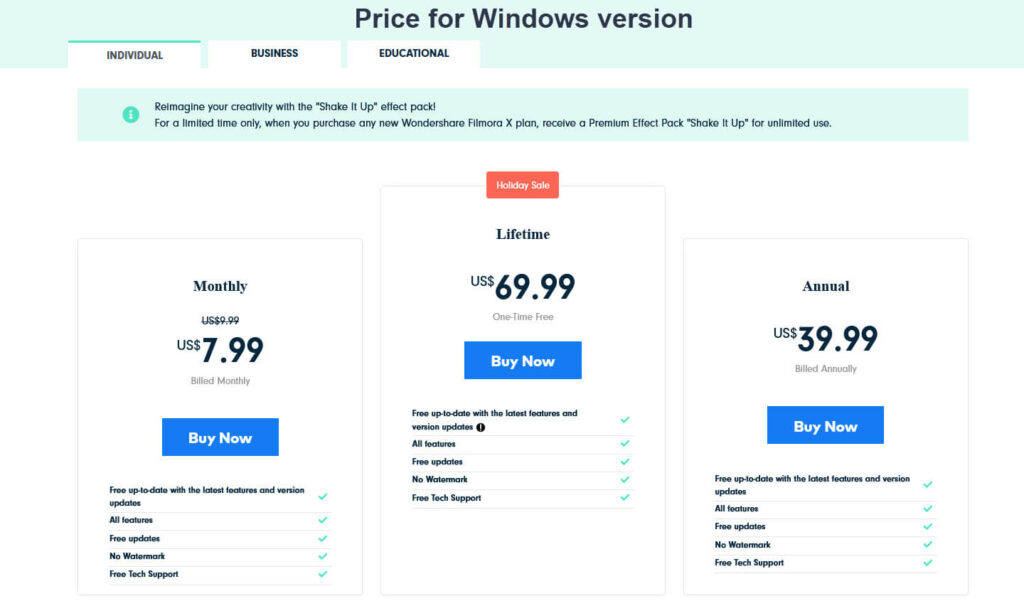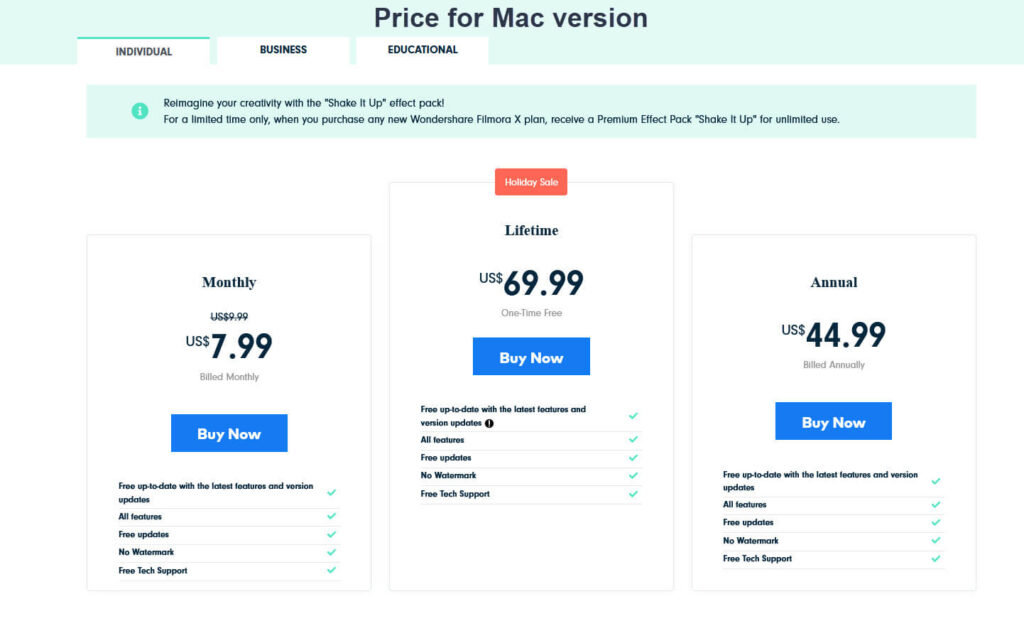 Filmora is another best alternative for Camtasia. Filmora is packed with many more features included like adding different filters, audio mixer, Advance text editing, pan and zoom, screen recording, video stabilization, etc.
The price range of the Filmora is a bit different when compared to Windows and iOS versions.
Filmora is a nonlinear video editor the same as Camtasia, both have classic timeline editors.
Unlike Camtasia, Filmora has another vision to full fill the market. It is completely designed for those who frequently upload videos on youtube and other social platforms.
The Filmora offers plenty of attractive filters and admirable effects to attract viewers.
The major difference in features
Performance
Both software will allow you to create small projects, such as 10 minutes of 1080p videos.
The performance also depends on your PC spec. So the higher-spec desktop or laptop will work smoothly.
Screen recorder
Filmora and Camtasia have screen recorder features, so both can record your project over your screen with audio.
Camtasia having advanced setups for cursor effect, recording options, and settings.
Pros
User-friendly UI
Number of effects can get from an online store
Change the background easily with green background
Pan and zoom
Color tuning
Advanced text editor
Video stabilizer
Split screen
Cons
No access to storyboard editing
Lack of multiple video track
Audio files are not available for the standard package
Can sometimes system be laggy if your spec is not good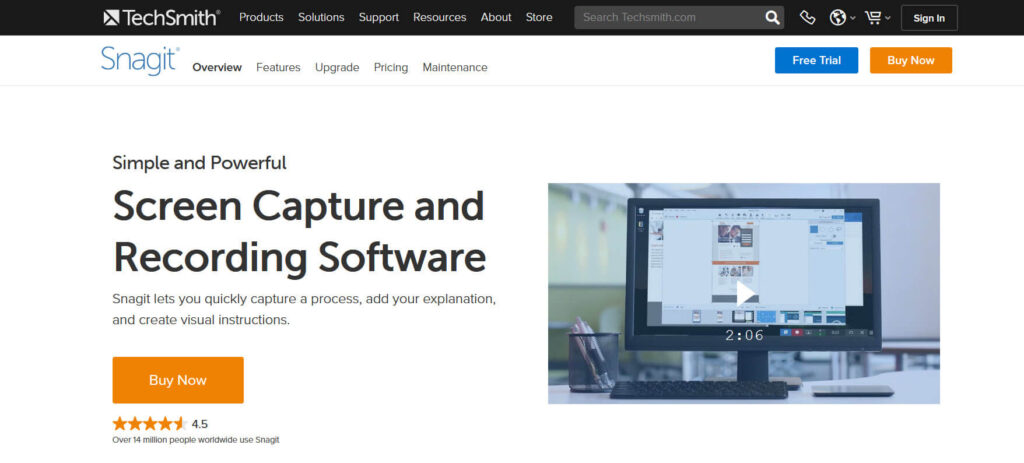 Supported Operating system – Windows and Mac
Price: $50 (30-day money-back guarantee)
The free version of 15 days
Snagit and Camtasia are both from the same company call TechSmith, are capable of capturing screen and editing tools.
A little bit about differences between Snagit and Camtasia
Snagit is known for making screen capture videos in an easy manner with an image to video conversion. Whereas Camtasia is packed with video editing tools also.
You can probably find Snagit as a basic and easy-to-use interface immediately capturing the screen and edit the images, basic editing like trimming, adding, etc.
Camtasia is an advanced video editor.
There are plenty of features in the Snagit image editor, whereas Camtasia only supports video editing.
Snagit is a beginner-friendly dashboard and comes with an all-in-one capture, in which you can select the whole as a screen or a particular region even with a scrolling screen.
The scrolling feature is more convenient with horizontal and vertical scrolls, this will include your long-form chat or product feature in a single place.
You can edit the images in many ways with the Snagit image editor tool.
There are 2 types of screen capturing if you want to save as mp4 as a complete video file or you can save the screen with a separate jpg file. That would be cool for bloggers.
Still not started a cool blog: How to start a blog easily in 2020 – A complete guide for starting today itself
There you can find an easy toggle between webcam and screen capture to optimize your video output. The system audio or your sound can be recorded while you are preparing a screen recording video.
Another Snagit feature you could find to make animated GIFs from a short recording mp4.
Record iOS screen with TechSmith capture app and can be sent to this Snagit trimming app.
Creating a GIF or video from a series of images with separate effects can be a blend.
Pros
Screen capturing and image editors are in a single dashboard.
Can select a particular area to capture
Beginner-friendly dashboard
Panoramic scrolling capture
Exports to cloud storage
Easy share to various medium
OCR functionality
Captures drop-down menu
Cons
Higher price point
No separate layers to edit
Scrolling is sometimes a bit laggy.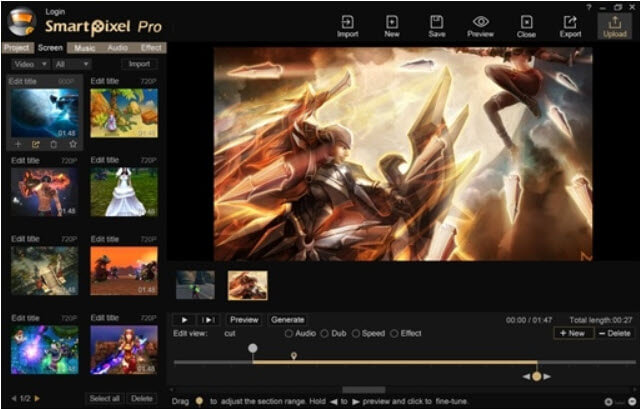 Supported Operating system – Windows, Mac, and android
Price: Free and Pro version available
SmartPixel is another best alternative for Camtasia. The main attractive feature is it's completely free to record your screen.
It is an integrated D3D recording which is compatible with Pc and mobile games. The rich video editing components make professionals give 100% great results for their audience.
The functionality improves you to capture the videos for your game videos, desktop screens, tutorials, webcam videos, music videos, etc.
The SmartPixel is well suitable for home users, which is a free version available with sufficient features.
As I said on Snagit, we can capture specific areas or entire screens to the video part. PIP mode helps you to integrate the microphone audio while on webcam recording.
There are plenty of video effects to stretch your talent to another level.
Record-setting you could get resolution adjustments, frame rates, brightness for quality improvements.
The software supports multiple file formats such as MP4, M4V, GIF, MOV, FLV, AVI, WMV.
Pros
Beginner-friendly
D3D to capture high-quality videos including game videos
Can select a separate part of your screen
Picture-in-Picture mode
Handy and easy to use video editor
Multiple file formats support
Free to use
Cons
Instability on software sometimes
The learning curve is steep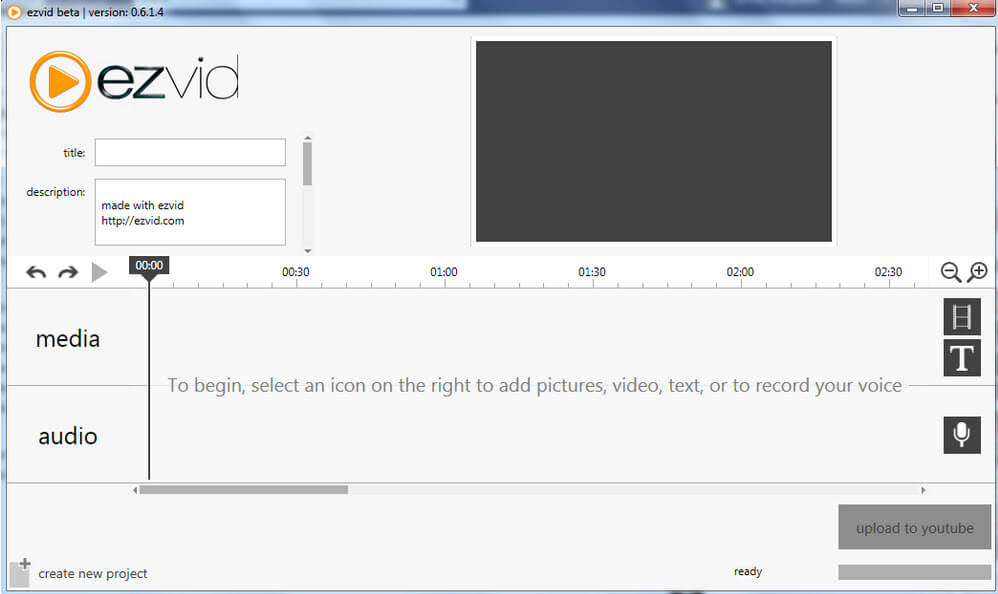 Supported Operating system – Windows
Price: Free
Ezvid is a great alternative for Camtasia which helps you to capture high-quality videos for your professional growth. You can use this software to create your how to do videos, technical videos, online courses, professional demos.
Autosaving of your recorded videos is included as a feature. You can also record your gaming screens and post them on the social web or youtube.
The maximum recording time is shown as per the HDD size where you installed the program. The setting can not change.
The editor program offers to apply watermark or drag-drop audio files to the timeline. The editing tools include split, duplicate, delete parts, adding sound, etc. You could see an instant slideshow tool on this software.
The users can directly upload the video to the Youtube channel, but there is no option for saving the file locally.
Pros
Free to use
No unwanted watermarks present on the video
Handy video editor
Draw on your screen
Free included music
Fast and easy screen recorder
Instant facecam and voice synthesis
Cons
Video editing not advanced
45 minutes of recording limit
Export is direct to youtube only.
Local saving the exported video not possible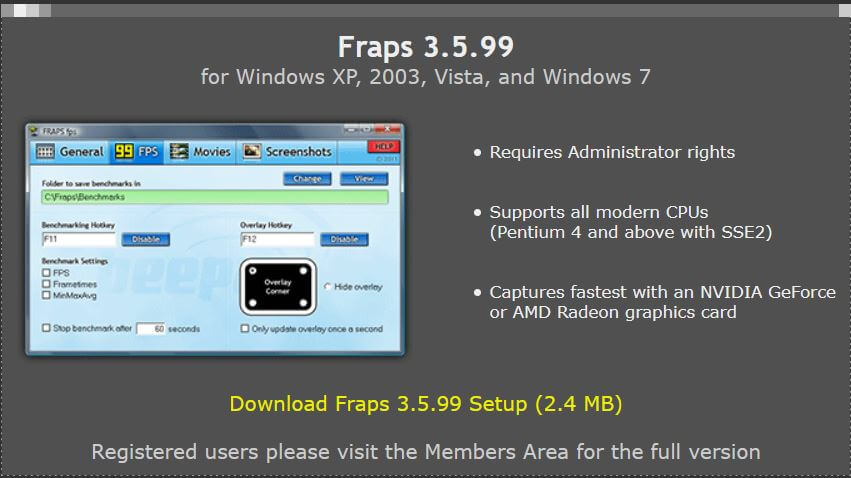 Supported Operating system – Windows
Price: Free available and also paid version
Single user license $37.00
2 user license $70.00
Fraps are introduced with a bunch of cool features and are the best alternative for Camtasia, which was concentrated on the market in a bit of a different way.
Yes, Fraps is a video capturing software, which can be used mainly to record gaming videos using direct X or Open GPL graphic technology.
Let's see the features of Fraps more deeply.
Fraps is a benchmarking software, which is capable of showing Frames Per Second on your screen. Also can measure the FPS between two points. The statistics can be saved to your disc for further reviews and other analytics.
Fraps are capable of taking screenshots and directly saved to a location with name and timestamp applied to it. This will eliminate the hard way to paste on the paint and save it to the disc.
The image formats supported are BMP, JPG, PNG, TGA, and also you can set up screen capturing hotkey to use this app more easily. If you have more screens to capture in an interval, then setup timing inside Fraps screenshot settings.
Fraps will help you to record the gaming screens in an easy manner. It can capture up to 7680X4800, with custom FPS which varies from 1 to 120FPS.
You could also find the hotkey setup inside movie settings with Frame Per Second setting also.
Pros
No messy interface
Can drag and drop easily
Video capturing feature
Hotkey setup
Cons
Webcam not supported
No advanced video editing tools
Limited to only video/image capture.
Supported Operating system – Windows
Price: Free available and paid version
Pro version – $227/Year
Those who are looking for quality screen recording videos for their online lessons can opt FreeCam as same as Camtasia.
Let's look into the major features
Easy selection of recording is, in which you can select a complete screen or selected area.
The FreeCam can record system sound of any programs or you can separately add background music to your creation. There is another convenient option also, with your microphone you can integrate your own audio to the video.
Mouse pointer enhancements and also can turn on your mouse click sound.
There you can get an easy console for editing your videos, in which the application allows you to delete particular parts of the video which are unnecessary to the content.
There is an option for removing background noise, also you can adjust the audio fade-in or fade-out with the FreeCam.
While coming into saving the video, you can directly upload the file to Youtube or save it to your local system that will be HD quality (720p) in WMV format.
Additional features included inside the pro version of FreeCam are
Recording quality – 1080p
Multi-track timeline
Record a separate voice-over
Record webcam
Record screen and webcam at the same time
Add annotations
Add video from computer
Insert music
Insert shapes and pictures
Insert text
Transition effects
Pros
Video recording not limited
Background noise can be removed
No watermarks
Screen recording selection
Can save to the local machine
Cons
The free version limited to WMV format, while the pro version support MP4
No webcam integration
Not an advanced editor
Major features are inside the pro version
Final words
I have listed here the 7 best Camtasia alternatives, which are efficient in terms of features. Within this, some of them are providing free to use options and others are not. So you can decide, as per your requirement and budget.
If you require more extensive features like video filters and advanced editing features you can opt Filmora or if you just needed screen recording to choose anyone from the list.
Comment here which one is your favorite or other than this list just point out here, definitely I will try to include it in the future.
Additional Read: A letter to my best friend who I love most
Hosting Monks Blog Review
Blog feed letters – crossword clue