Are you looking to make your blogging more easy??
You got my page means you will get 26 android application lists, which makes to plan your activity through your smartphone itself. Tones of application are available, but more will disappoint you without prior review of the app. Result WASTE of time!!
In this modern world, smartphones are essential gadgets. So I thought there were several applications available on the Android platform for Bloggers, that should be noted here for better understanding. The major market share in Smartphones is handled by Android. So I am trying to list out the best apps on this platform.
These apps will keep you updated on your contents, traffic, Video edit, Image edit, Comment reply for the post, post updation, even you can listen to a podcast as well. Below 26 android applications for bloggers are more suitable for those who are traveling a lot. And stay connected in social media and manage business pages as well.
I am starting the Top 26 android application for blogger with WordPress!
Yes, They are the market giants and my one of the favourite app.
Let's start reading!!
WordPress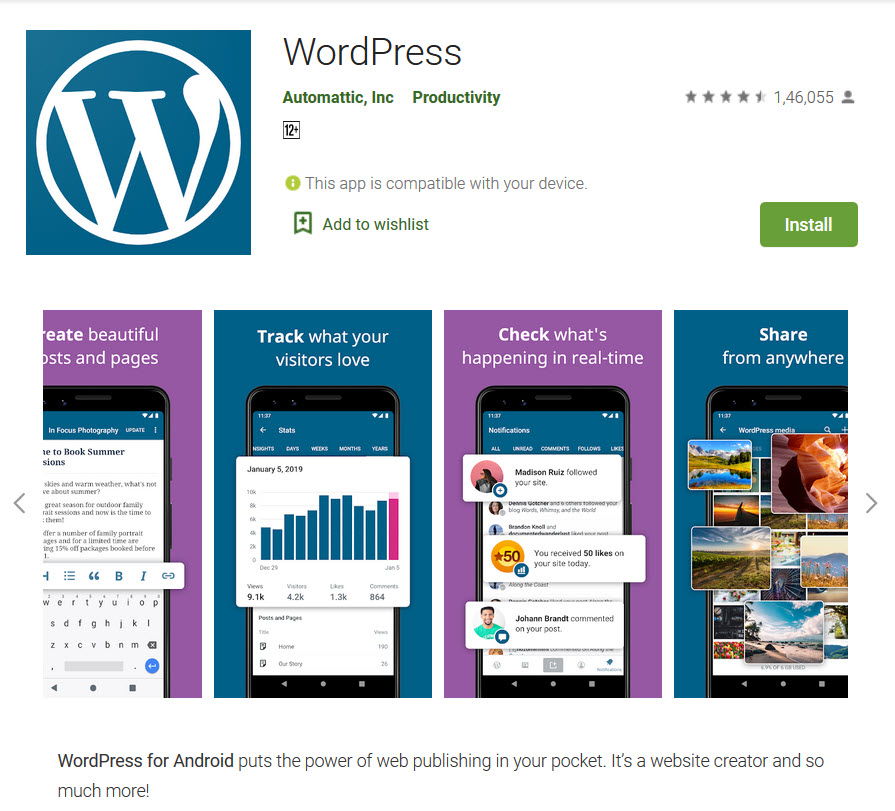 WordPress itself is one of the market giants in the CMS industry. So there are no surprises if there is an application available in the play store. Of course, It's true that over 10M people have downloaded it as of now. WordPress has sophisticated technology available and made the application easy to use. Also it is made compatible with WordPress self-hosted and blogs in wordpress.com. WordPress app is available on both iOS and Android.
The blogger's routine works can be easily handled by this app, such as add, edit, update, trash, publish – posts, checking comments, tracking statistical data, update media to the post, or page.
Try WordPress today itself. Now you have a great app with a bundle of features on the go.
Download and Install from Google Play store.
Blogger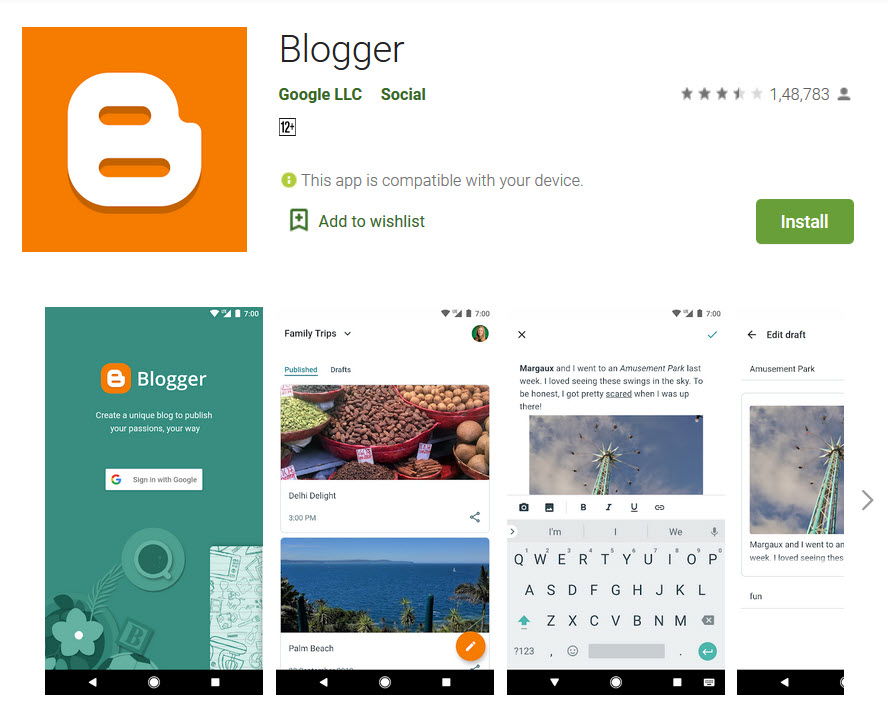 The Blogger app introduced by Google and Blogger itself another popular app among bloggers. Specifically, features include Compose a post that you can save to draft or immediately publish, Add labels to your posts, Switch account/blog if you have more than one, edit existing posts, Embed images from the gallery, or by taking a picture directly from the app.
surprisingly the rating of this app comes with 3.5. As per the user reviews, I can say that the app itself bundled with fewer functionalities, I don't know why it happened from Tech giant google itself. It's not a competitor for WordPress app, that's true.
Any way With this app you can definitely work better while you are out of the office or not having your laptop aside.
Download and Install from Google Play store
Tumblr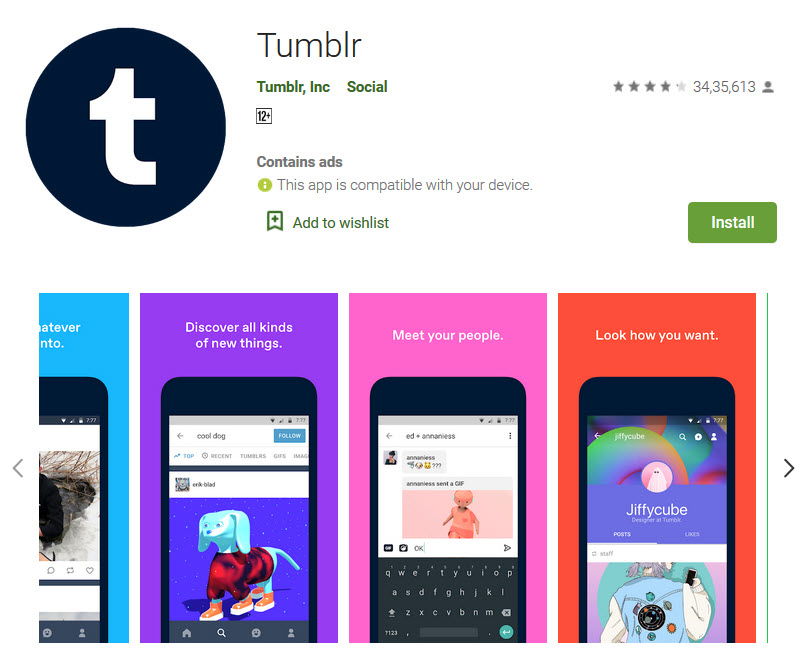 One of the popular CMS, which gives free as well as paid versions for blogging. This app will guide you to configure the Tumblr blog into it. Have you heard about Microblogging, Yes, Tumblr is Microblogging site. This is because of your interesting content such as Photos, Videos, Gifs, Quotes will feed on your demand.
You can design your own gifs, if you want.
The app can be used for posting, editing, scheduling posts, and reviewing comments. With the Tumblr app you can customize the blog by changing colors, fonts, layout, almost everything.
Over 10Million active installations found for the Tumblr application.
Download and Install from Google Play store
Pocket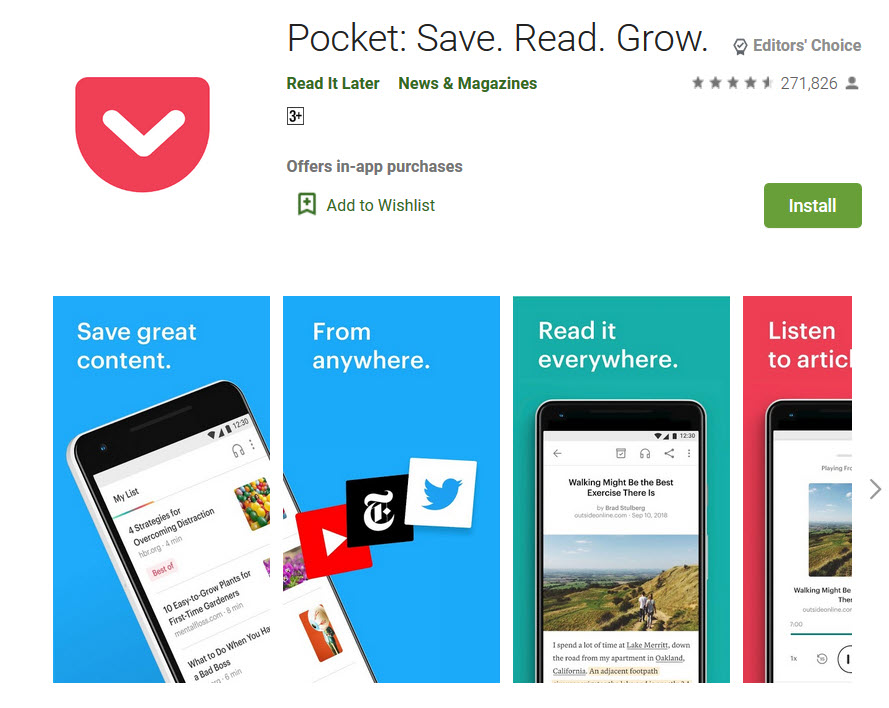 Pocket is another time-saving app for bloggers as well as readers. The application is designed for those who don't have enough time to peek into the web browser and no time for extensive reading during their working hours.
This application enhances the reading experiences, in which you love to read. Especially stories, articles, posts, videos, recipes, how-to info, news, magazine, are stored in a pocket app for free time reading. You can decide which contents should come first and this ingenious method will save lots of time and you will get only the contents you require.
World-famous publishers New York Times, BBC News, Buzzfeed, Medium, Twitter, Youtube, Lifehacker, Washington Post, and google news have collaborated with pocket. You can focus on what you want to read through your pocket, customize it, enjoy reading.
Download and Install from Google Play store
Feedly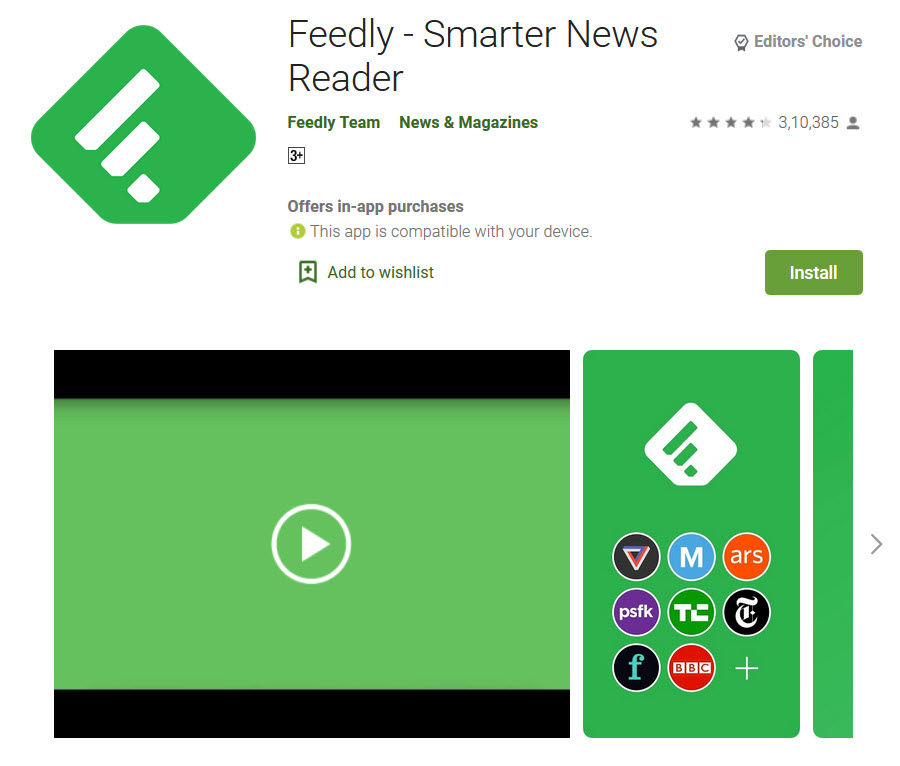 Obviously, Feedly Is another popular content reading app in the play store. This app is mainly used for tracking the RSS feed of any blog. Mostly people used to read blogs, keyword tracks, brand tracks, and learn new things.
You can organize the feeds from the various segments like tech, business, media, design, marketing in one place. The application integrates with Facebook, Twitter, LinkedIn, IFTTT, Zapier, Evernote, Buffer, etc.
Download and Install from Google Play store
Facebook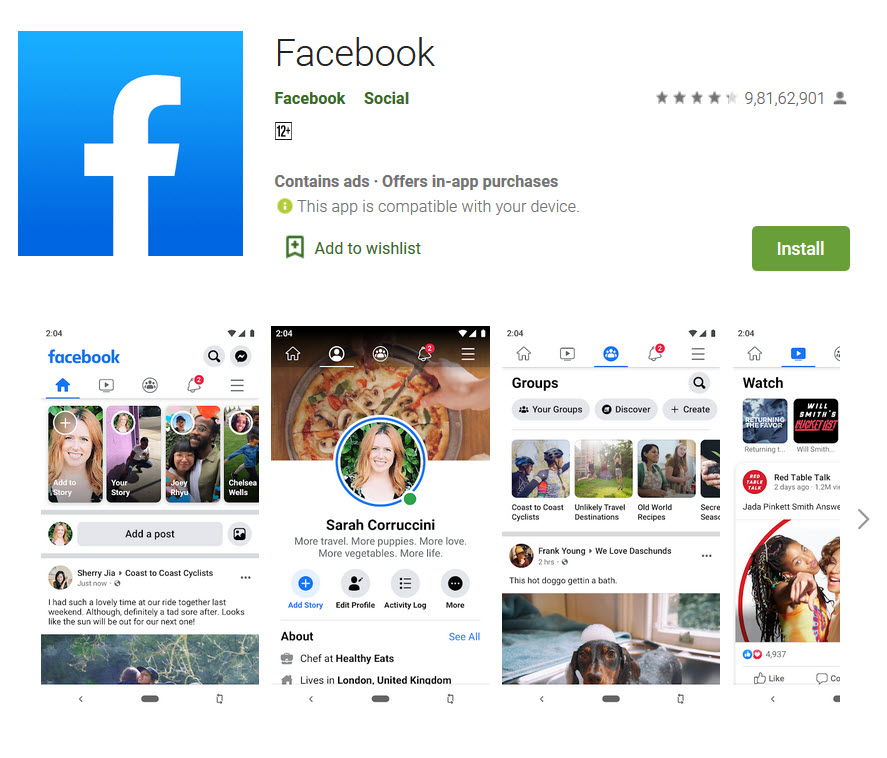 The Facebook app didn't require a formal introduction for smartphone users. Over 5Billion times the app has been downloaded. That much popular social media gained popularity in the app also.
Why should bloggers use social media?
The bloggers have a good opportunity to market their products, posts, webpage, services, etc can be easily promoted in front of a large audience.
Uses of Facebook for bloggers
1. Marketing of their product
2. Social interaction
3. QA session
4. Podcast
5. Live to stream
6. Online event
7. Promoting own company
Download and Install from Google Play store
Twitter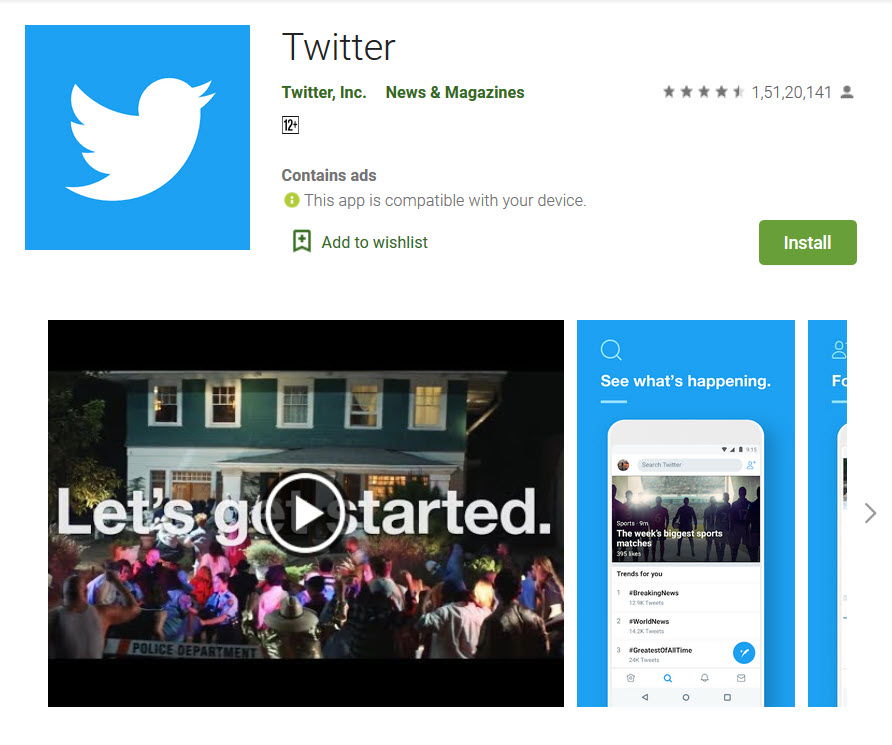 The most popular app next to Facebook for social connectivity. The app has good ratings in the play store that is 4.5. Specifically, a blogger can use this app to tweet their blog posts, increase social circle, and share their thoughts.
Twitter requires small size messages, keep your message tiny and tweet it with twitter. Anyway it's free of cost like Facebook.
Download and Install from Google Play store
Facebook Pages Manager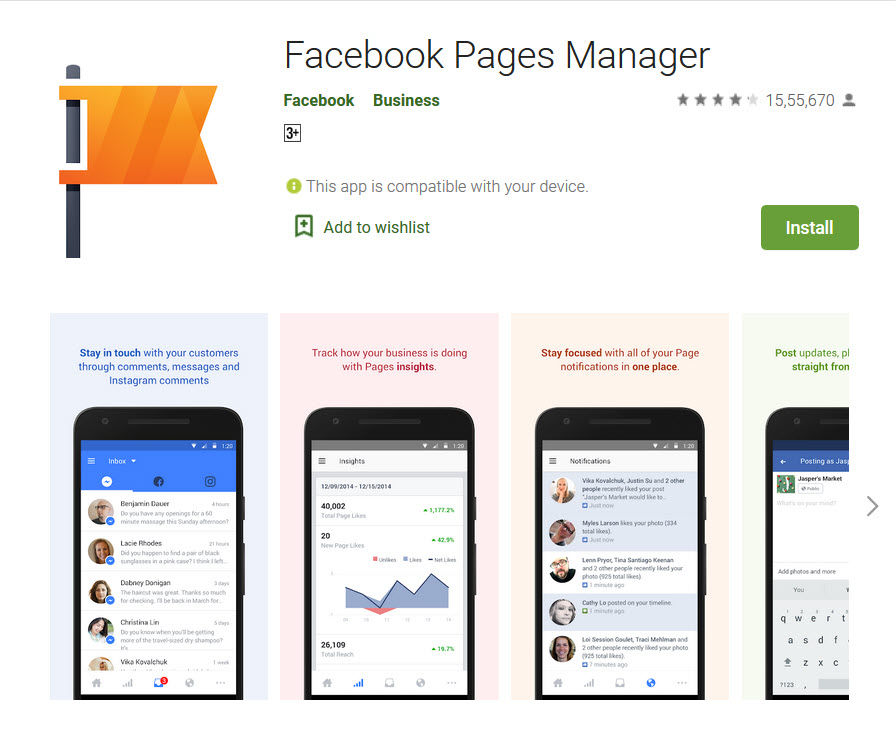 The Facebook Page manager is another handy app for handling promotional pages smartly arranged here.
The app provides immediate responding to the comments in Facebook page, Push notification Facebook, and Instagram and see all your important notification in one place in the pocket.
Through this app, you can track the promotions, stats, activity on your page, etc
Download this free app and link your page here and manage it efficiently.
Download and Install from Google Play store
Instagram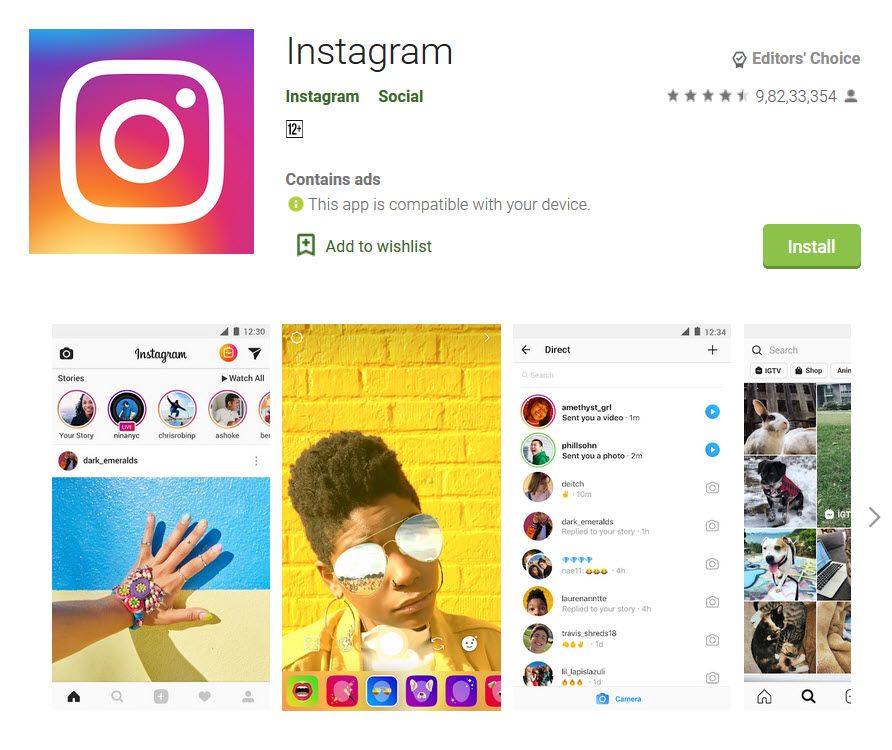 Instagram is a popular app among social media networks. You can connect with people, community to extend your blog post reach. Add photos or videos as stories on Instagram and make creative yourself with various tools.
This media can be used for brand promotions and will work to a great extend. Download free of cost and use today itself.
Download and Install from Google Play store
IFTTT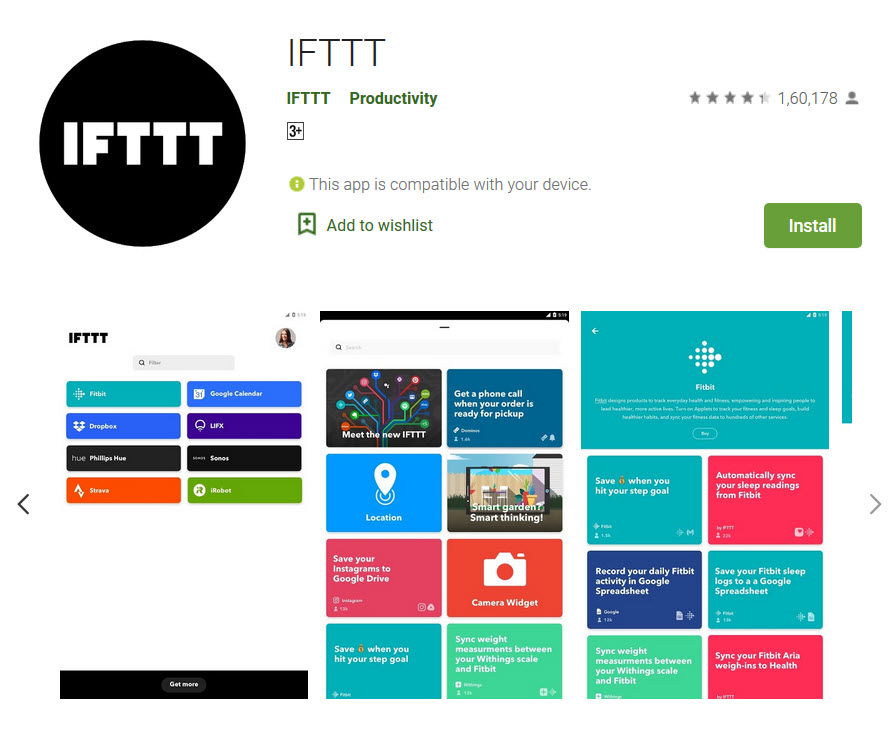 IFTTT is fun for connecting Twitter, Weather, Telegram, Google Drive, Twitch, Underground, DropBox, Slack, Compatible devices Google Home, Alexa, IRobot, LFX, and android. Over 630 apps can connect with IFTTT.
Stay connected with the latest publications like the New York Times, ProPublica, and daily forecast notifications. Backup your photos to Dropbox or Google drive.
Other services that connect with IFTTT Tumblr, Google calendar, Fitbit, Evernote, Digg, Line, Mailchimp, Salesforce, eBay, Pocket, Medium, and many more.
Download and Install from Google Play store
SocialPilot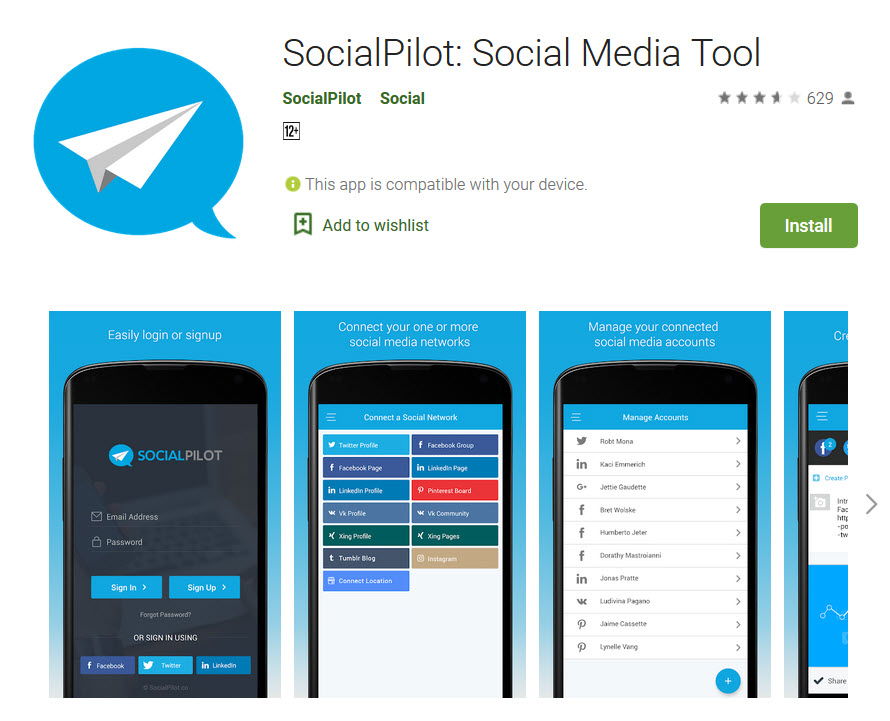 Social pilot having 50K plus installation in play store. This app works to publish, report, engage in various social media like Facebook, Twitter, LinkedIn, Instagram, Tumblr, Pinterest, and VK.
Main uses
1. Connect up to 100 social media profiles, pages, groups.
2. Share up to 1000 posts/day and can schedule a queue up to 10K posts.
3. Reply posts, messages, comments, in real-time on Facebook pages.
4. Get insights with analytics reports for Twitter, LinkedIn, Facebook, and Pinterest.
5. Connect and manage social media pages of clients without exchanging social account authentication.
Download and Install from Google Play store
WPS Office Writer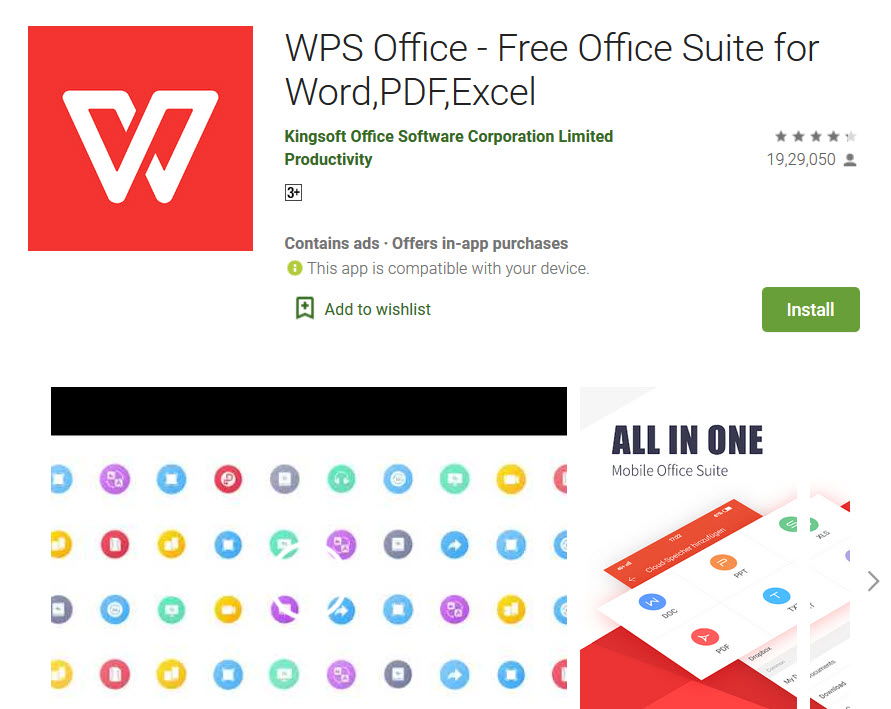 WPS office is popular because it will work all alike Microsoft Office. And found extended features like a pdf reader and editor etc.
The main uses of the WPS office are listed below.
Word, spreadsheet, presentations, PDF, scanner, Notes, Memo, compatible with google docs, Adobe PDF format, Microsoft files.
Download and Install from Google Play store
Evernote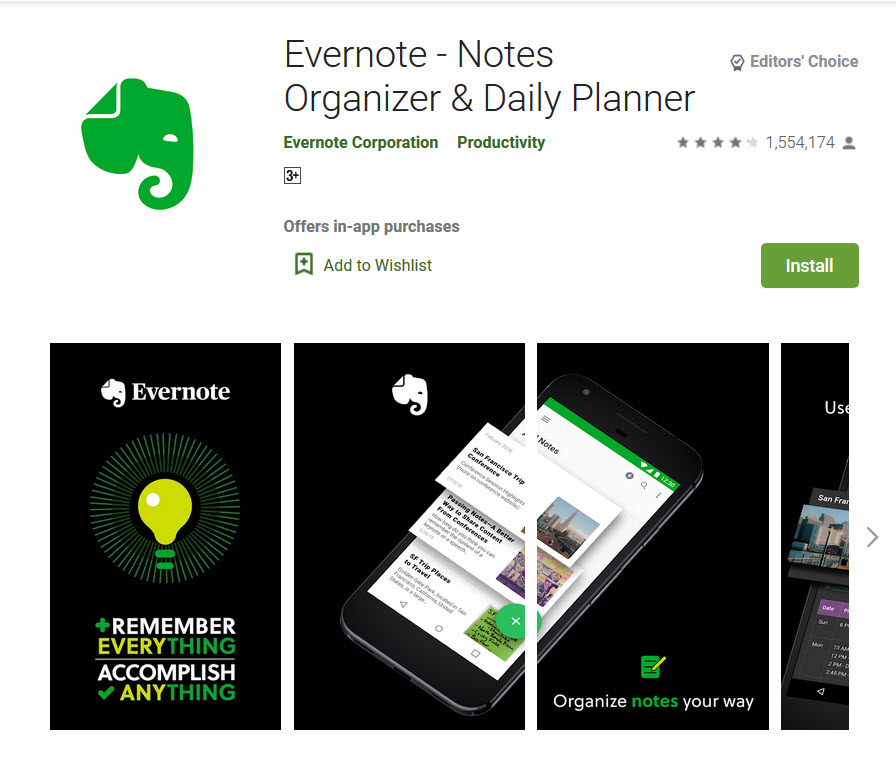 Evernote is another blogger supporting apps developed in both android and iOS.
Evernote smartly manages your instant notes while traveling, or during busy meetings. And read them while you are in a calm place. Your Evernote writings can be accessed on any device.
Even you can capture images, audio, do sketches, create a to-do list, write what you want with Evernote. Try this app and comment here is it worthy or not?
Download and Install from Google Play store
SwiftKey Keyboard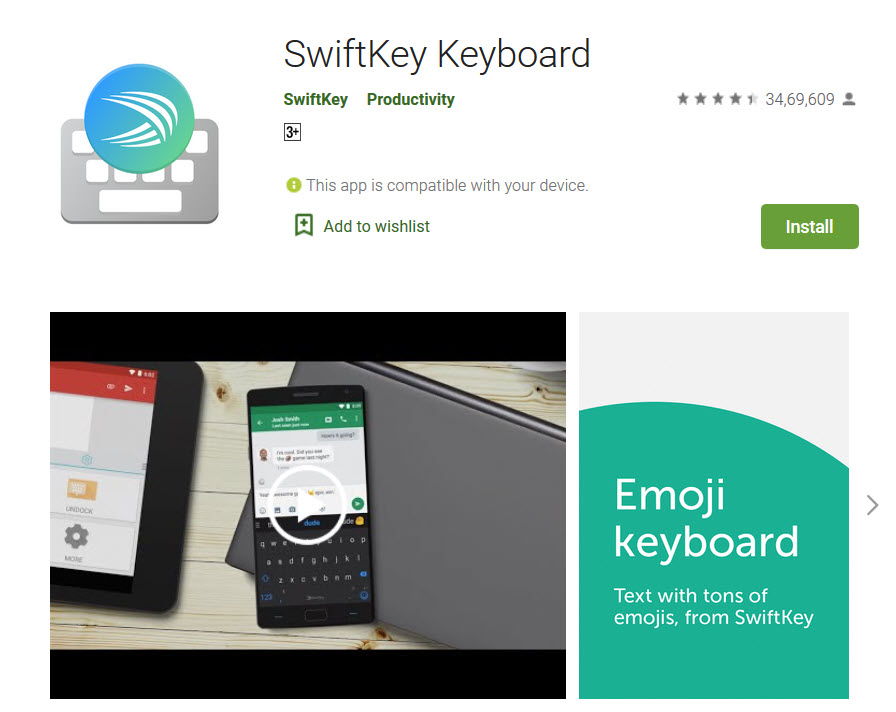 Swiftkey is one of Microsoft's best products, which comes with excellent user backup and still owns a good rating in the android market as 4.4. If you are good at typing on your smartphones, then using a swift keyboard makes you more comfortable than other traditional keyboards.
This keyboard always keeps learning and adapting to your typings. The built-in emojis can be your friend and you can use this more easily.
Text predictions with autocorrections backed with AI support.
Colorful themes make it more elegant to use. Download the keyboard and use it and review yourself.
Download and Install from Google Play store
Grammarly keyboard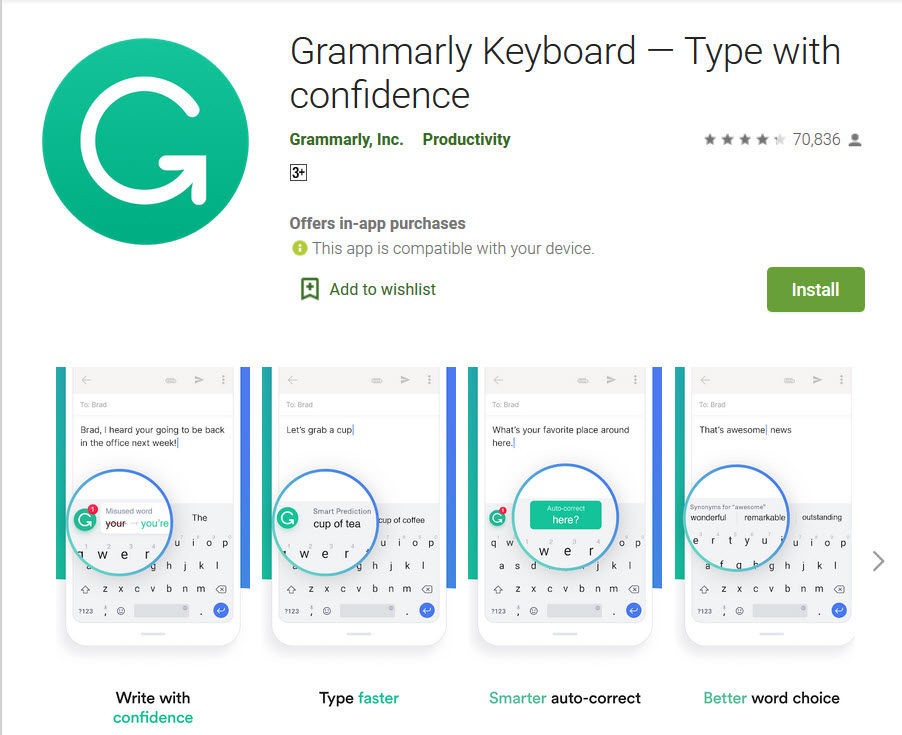 If you are a continuous user of the smartphones for blogging. Then definitely should try this out. Usually, the Grammarly app comes with keyboard installation, which is the same function as in desktop provides you to correct while typing.
The important features are included here.
1. Advanced and dedicated grammar checker inbuilt with keyboard
2. Almost every app can accommodate the Grammarly keyboard
3. Spell checker
4. Vocabulary enhancements
5. Punctuation correction included
Download and Install from Google Play store
Google Drive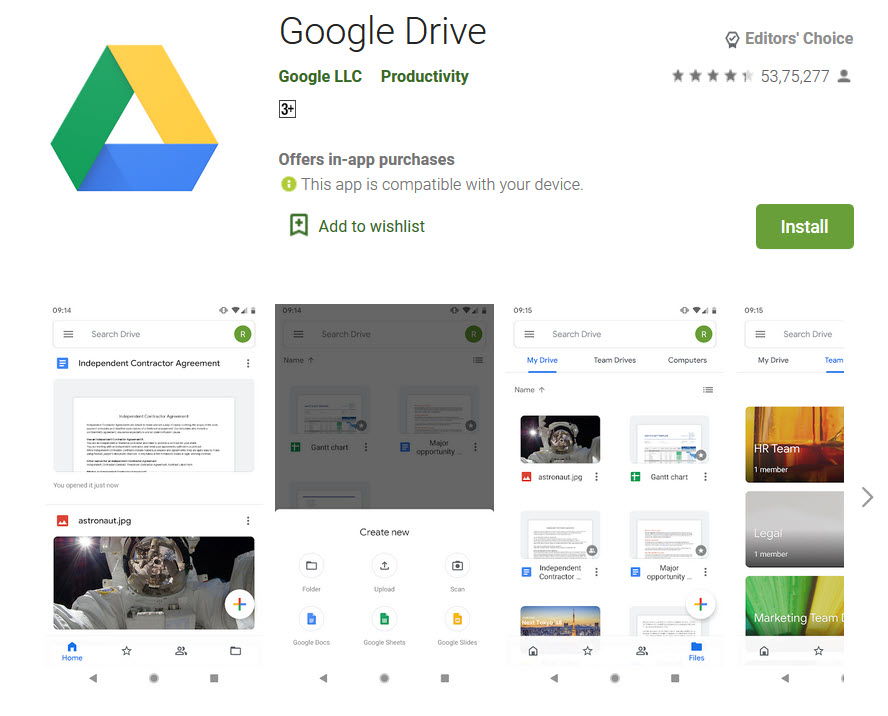 Google drive is another useful app for bloggers. You can create your Folder, word files, Excel file, Presentations. Simply you can edit content anytime if you have a smartphone and the internet. Another great benifit is that you can store any files on this drive, except .exe because it will harmfull for drive itself.
The main use of this app is that we can connect the drive to other applications on mobile. We can set auto-sync to upload even phone settings, images, videos, contacts, backup your blog into google drive. You are getting 15 GB of free space to upload your files. You can share the files to other Gmail Ids and we can download anytime when required.
Google Docs – Creating and editing documents files
Google sheet – Creating and editing excel sheets files
Google slides – Creating and editing presentation files
Download and Install from Google Play store
Google Keep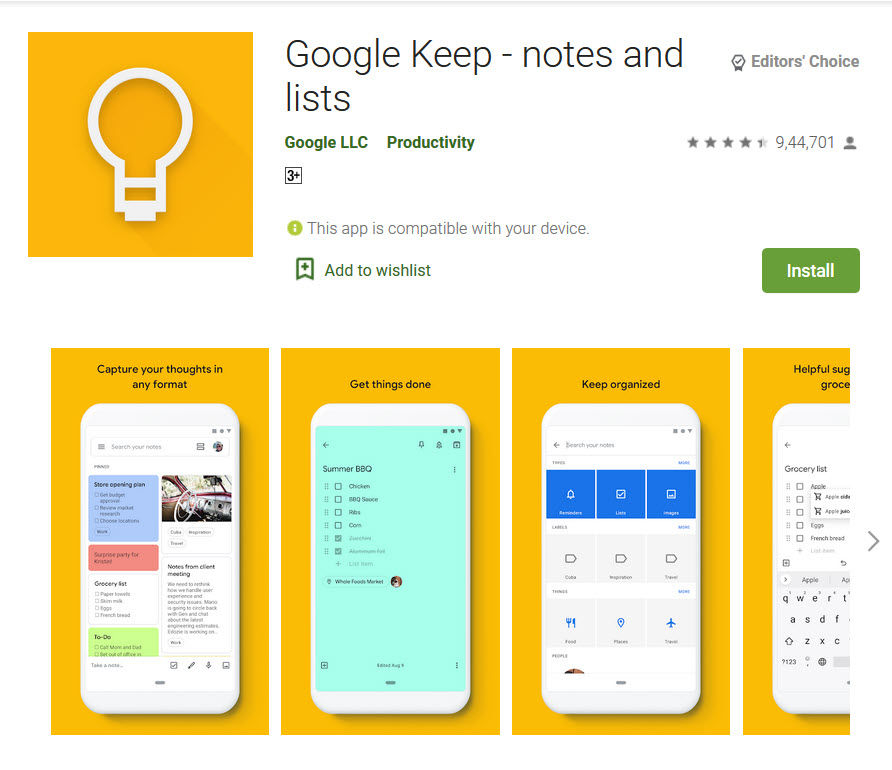 Keeping your notes and reminders with voice commands, it's not a joke, Now it is possible with Google Keep the app. This app is crafted for people who make lists, notes, reminders on the Go. Even it can be useful for noting the grocery list and giving a tick mark after you have done the work.
So easy right?
Another great feature is that you can attach photos inside your notes. It will sync with all your devices instantly. This feature is very helpful while you are using your laptop and not accessible to your mobile for a while.
Download and Install from Google Play store
BeyondPod Podcast Manager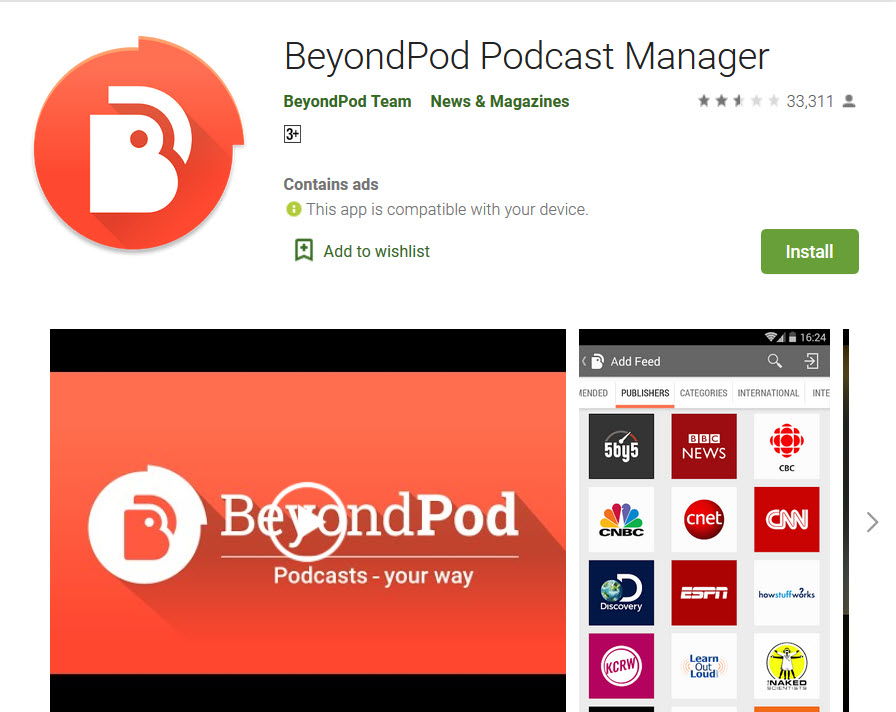 Are you a podcast lover?
Then we are here with the Beyondpod app. You can see over 1 Million downloads already done. Access millions of audio-video episodes from small publishers like radio stations to larger organizations like CNN, ESPN, BBC, CBC.
You can Chromecast this Beyondpod content to your big screens. Happily, complete control will get you what you should see in your console.
Due to some bug issues, the app rating is not good at play store.
Download and Install from Google Play store
Google Podcasts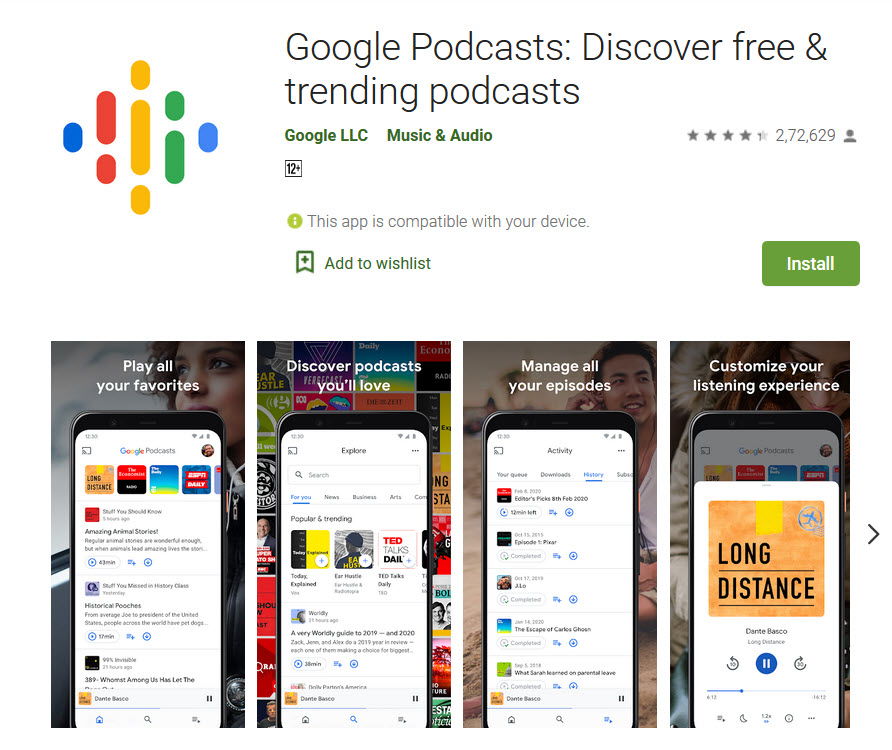 Google podcasts are the same vision as Beyondpod. Find and listen to world podcasts for free. You can browse for popular audio-video contents in shows in news, sports, blogs, and many more.
The auto-download option is available for offline listening also bundled with google assistant and google search so it is easy to use.
Download and Install from Google Play store
Slack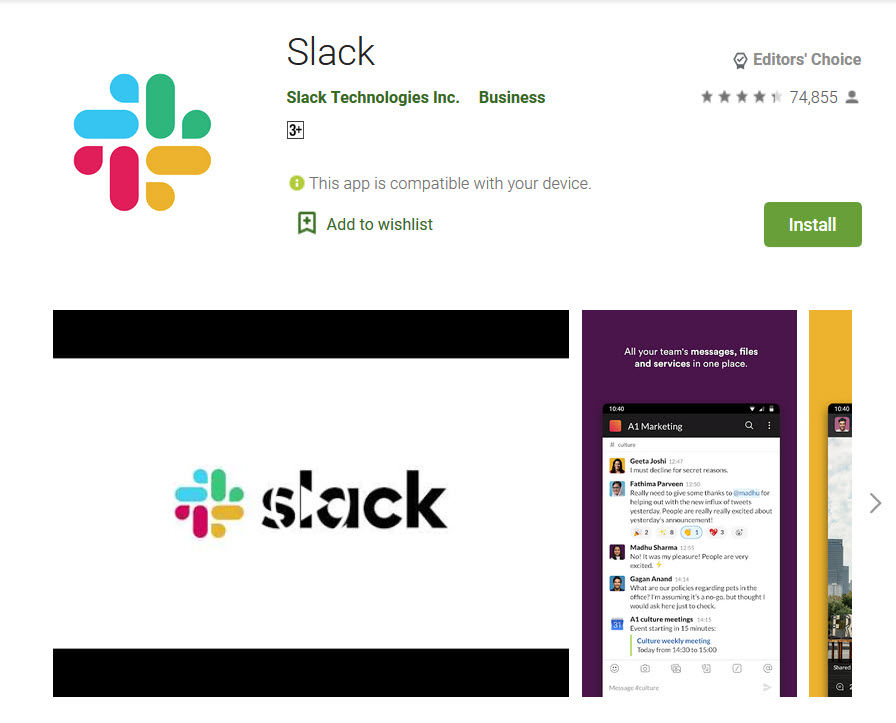 It is the communication app developed by slack technologies. Slack is available in any device so no worries about switching your device. It can be used for communicating with your team and organizing your conversation by topic. Message or call any connected person within your organization or team.
You can also share videos, images, Gifs, Documents, in your group, or individually.
Setup bot file for organization quick reminders and set up regularly.
Download and Install from Google Play store
Photo Editor Pro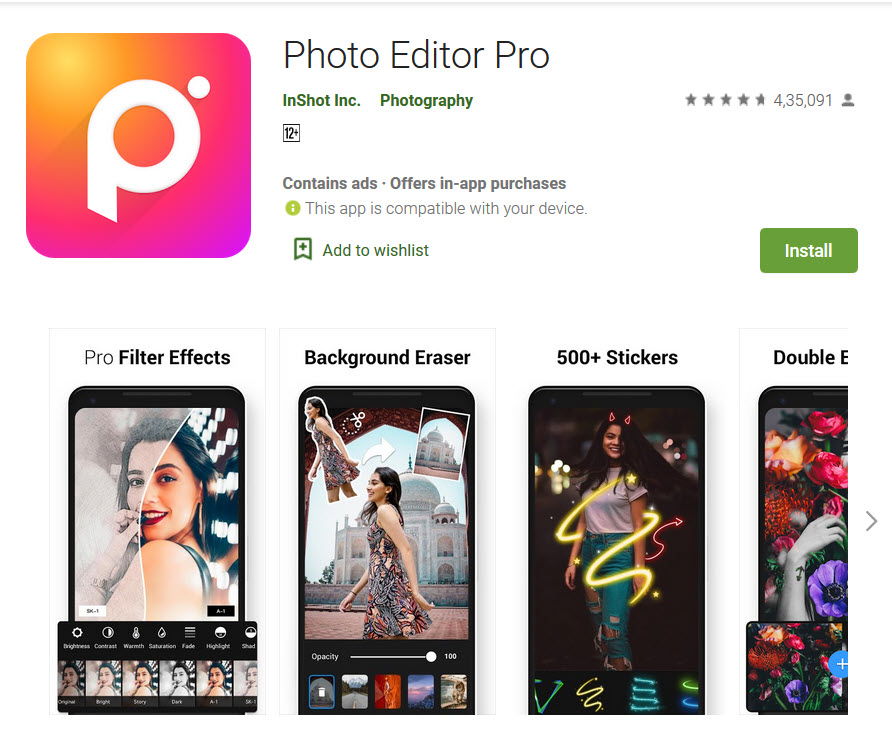 The photo editor app saves you time for editing your favorite photos for your blog.
Main uses listing here
1. Changing the background of any picture
2. Sticker making
3. Portrait mode enhancements
4. Figure correction
5. Background, frames, filters choose from the list
6. 100 + photo effects added
Download and Install from Google Play store
Flipboard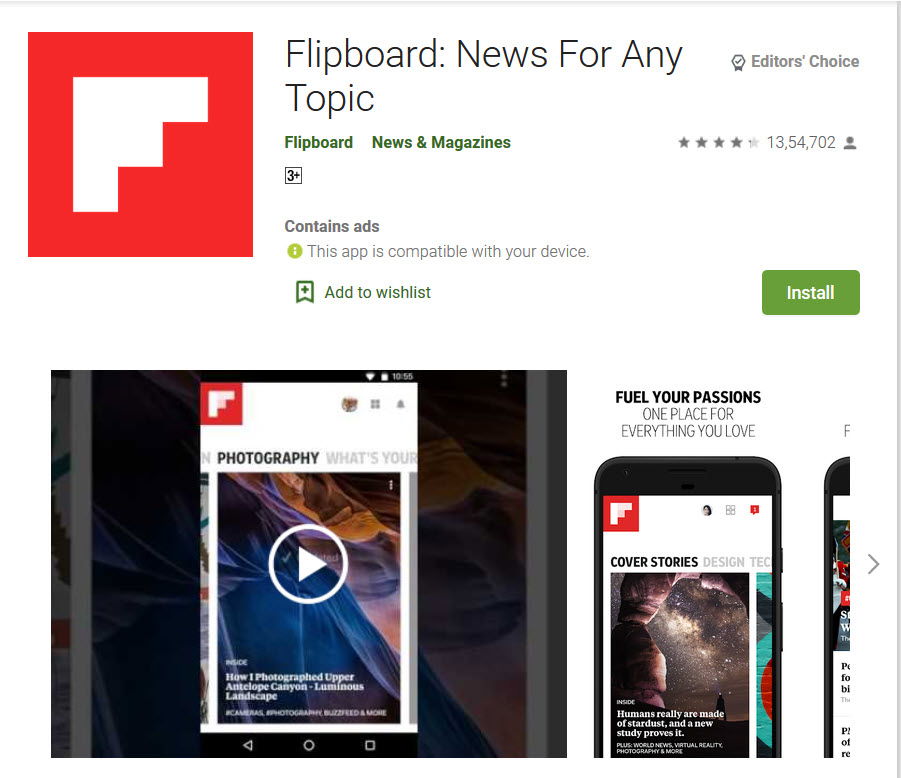 Flipboard is another reader app, in which you can decide what kind of content to be displayed on the home page. Otherwise, you have to skip more and more content which results in wasting valuable time. Come and check the Flipboard app to customize your feeds in your pocket.
The major function of Flipboard
Read, Like and share the various contents.
Will keep updated with latest contents that vary from news, publications, magazines, blogs, etc
Find some interesting communication with the Flipboard community and share your pages.
Download and Install from Google Play store
PayPal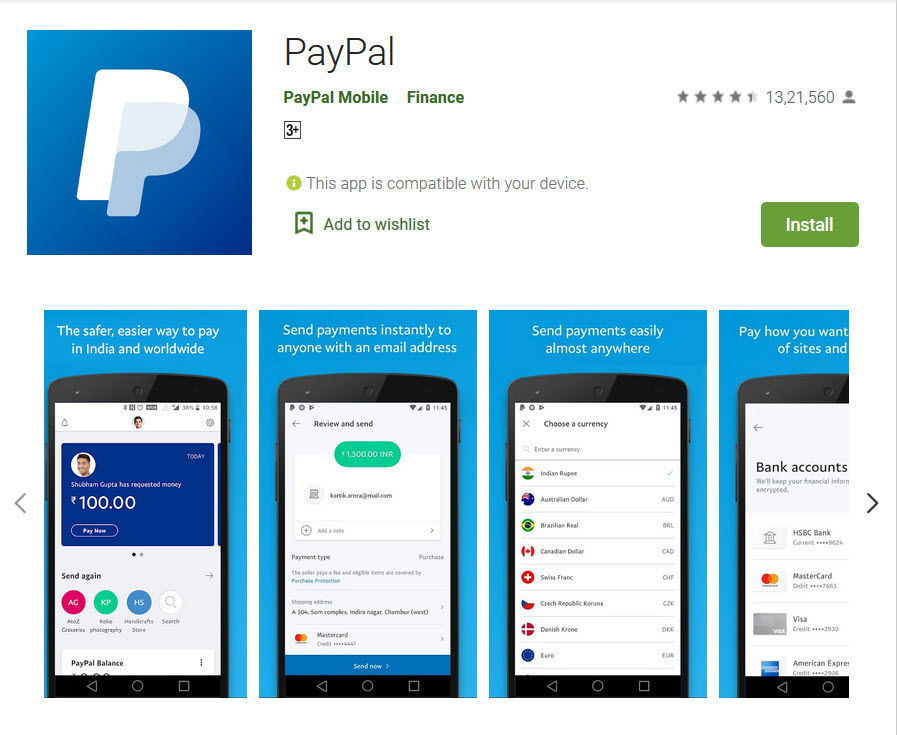 The payment application which is more famous among bloggers. This helps to link your credit or debit card to Paypal. Easily transact using this app, and can purchase the product online through this account.
Have a 4.4 rating in play store and send money online never be a headache even from international.
Download and Install from Google Play store
Google Analytics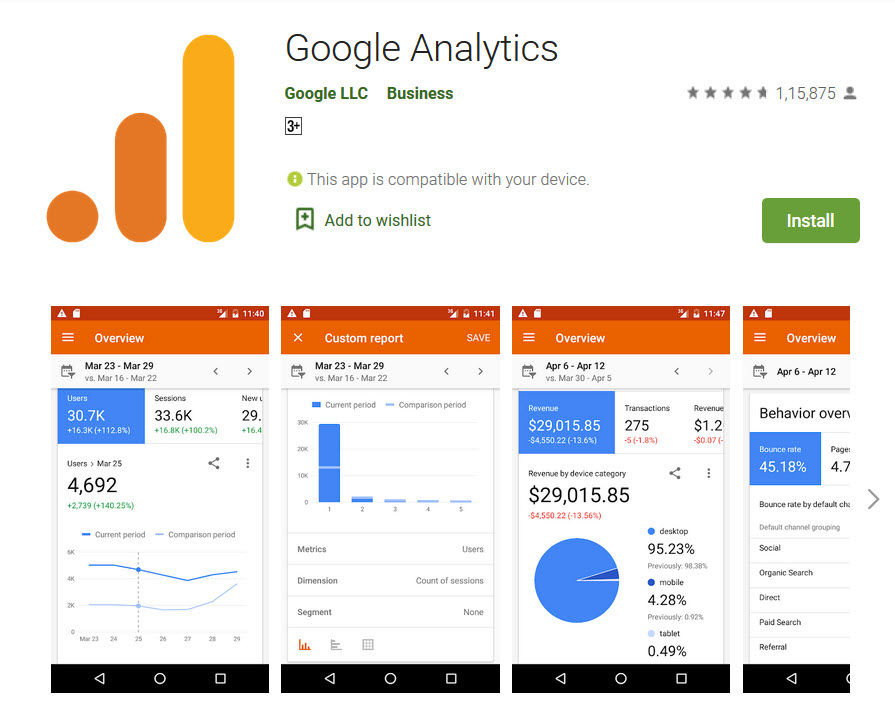 Tracking your audience activity is easy with the google analytics app in android. The stats will give you a complete graph of your blog, moreover features included in this app are Monitor real-time data, Check key metrics, save reports, Report exporting with all mandatory segments, and check revenue generation data.
Download and Install from Google Play store
Google ads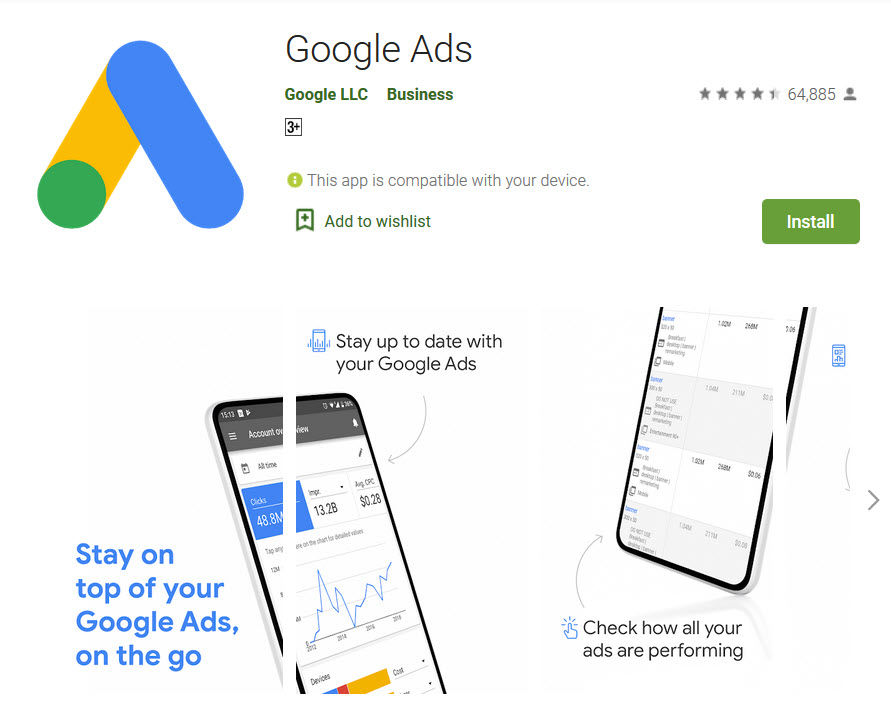 Google Adsense bloggers primary pinpoint, so the ever worthy app from google. As you know all the activities you had already done through AdSense. Without any argument you will get same functionality in this application.
Some are noted under
Check your ad performance and campaigns on the move.
2. The impression checking making easy to verify the ad reachability
3. Manage campaigns, keywords, bids, etc
4. Check your optimization score
Download and Install from Google Play store
Pingdom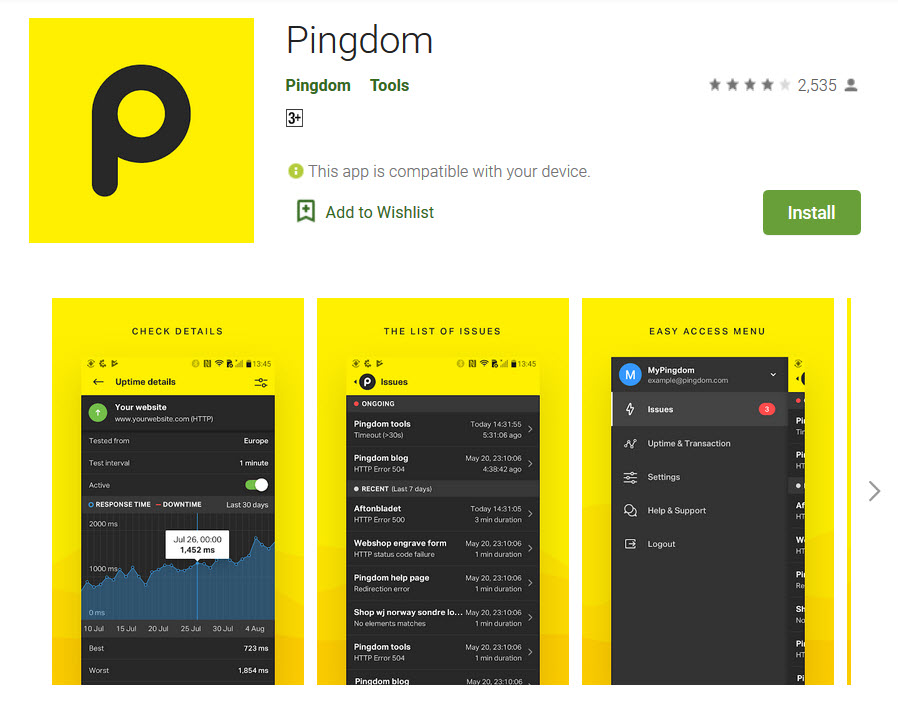 It is not easy to track server performance while traveling. But here you have Pingdom app for better tracking the uptime monitoring services and you can check the current status of servers, where your website is hosted.
The key features included here
Get instant notifications to your mobile device.
All your sites uptime down time monitored realtime.
Account-wide summary for all outages
Download and Install from Google Play store
Pinterest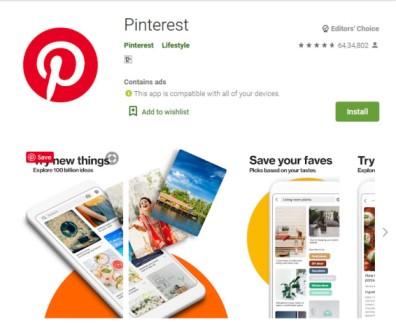 Pinterest is basically search engine, in which most of the Pins ( Images contains description or titiles ) are sharing through the searching engine. While we click one of the pins, it will show the description of webpage and Its title. You can promote your website/products through this platform.
Pinterest app itself simple to use and contains all the features to create boards, pins, follow the people, Home feed, search options etc.
More uncover the features by downloading Pinterest from Here
However, you people are already using such applications. If I have forgotten to mention any app please comment here.
Anyway you got a fair idea about the top useful applications in android.
Thank you for reading!
Spread love by sharing this article in social media!! 🙂
Subscribe for our latest Newsletters
Care our efforts by sharing