Frase.io is a great tool for writing content briefs, and I highly recommend it. There is a good chance that it will reduce the creation time by at least 50%. Frase integrates seamlessly with other search engine optimization software. It is an AI-powered content platform.
Search engine optimization tool, Frase Content identifies queries that your target audience is asking.
In addition, it offers ideas on how to better improve your post, which increases your chances of ranking on the top page of the search engine results page (SERP).

Also, they are shortlisted as a top performer by Capterra in the 2021 assessments. The ratings by users are great compared to other AI-powered applications.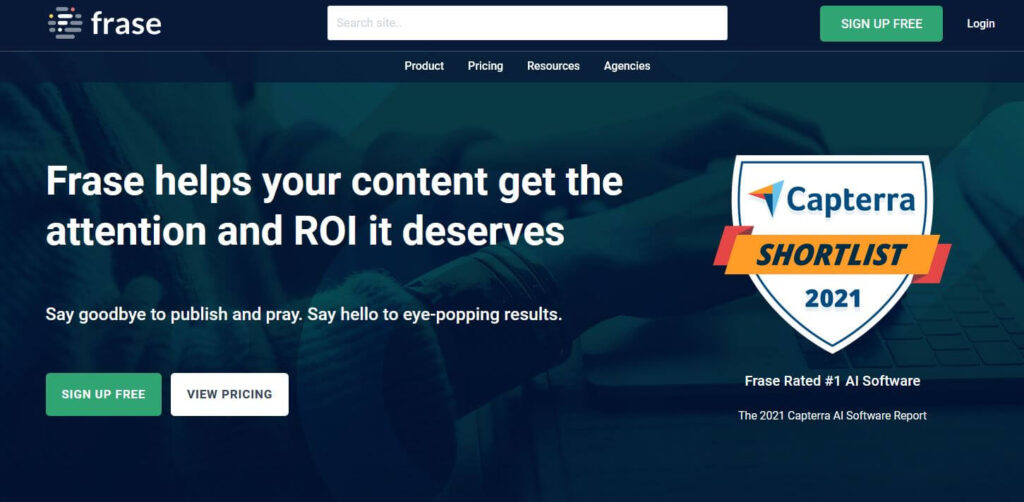 Content writers, including those writing for their sites and for clients, can use this application as their primary means of generating content along with the other content editor programs.
Frase Answers, a chatbot powered by artificial intelligence, searches your whole website to generate an intelligent knowledge base.
Besides this, the content gap of your articles can be analyzed and the latest piece of information can be added to your articles in order to boost their rankings.
Frase review
What are the core features?
There are alot of features bundled on the Frase.io website. It's easy to use, easy to automate, easy to deliver your content within a stipulated time.
1.AI-Generated Content Brief
What is a Content Brief?
Content briefs are the initial phase of any content creation process. Content briefs help you minimize editing and rewriting time by automating the writing process from the beginning. This tool includes a workflow of writing accurate and effective content from the start.
Here's what a good brief does:
It sets expectations
It points the writer towards the areas of importance
It results in more accurate and more effective content
It saves you hours in the editing process
It reduces (or eliminates) the need for rewrites.
How to create content briefs through Frase?
You can create content briefs in three ways.
Create from a template
Curate with the Research Panel
Generate Automatically
2. The answer engine
How to generate questions for your content?
You have to spend a lot of time researching the questions of your target audience.
You can use AnswerThePublic for searching questions related to your keywords. Quora, Reddit, etc. are also great places where people engage with questions.

Apart from these sites, Google itself has a unique platform named Question Hub to get a lot of unanswered questions.
But I could say that this may take time for organizing the questions and adding answers to them.
It's time to let Frase take care of this unpleasant duty. Yes, Frase will get your top questions and answers within a single window.
Your content research process is streamlined using Frase Question Research, which crawls the locations your customers ask questions, saving you time and money.
When you enter a keyword, Frase will return a list of questions, along with the source and keyword data, based on that keyword.
You can see an example of the question feature in the above screenshot.
You can get questions from SERP, people also ask, Quora, Reddit, etc. This feature has worked well for me, and I use this feature often for my content.
Thanks to Frase, a content brief is automatically generated in about 12 seconds using your search query.
You'll appreciate Frase's Answer Engine if you want to disseminate material in a targeted way or guide people through a question funnel. Within minutes, this clever tool will crawl your website and generate an intelligent knowledge base.
Frase's answer assistant will respond to every inquiry posted by a web user, 24 hours a day. Your blog isn't getting the traffic it deserves. Then, follow up with a related blog post, using Frase's call-to-action.
It even searches your website every week, so you can be confident that your responses are always up to date with the most recent information.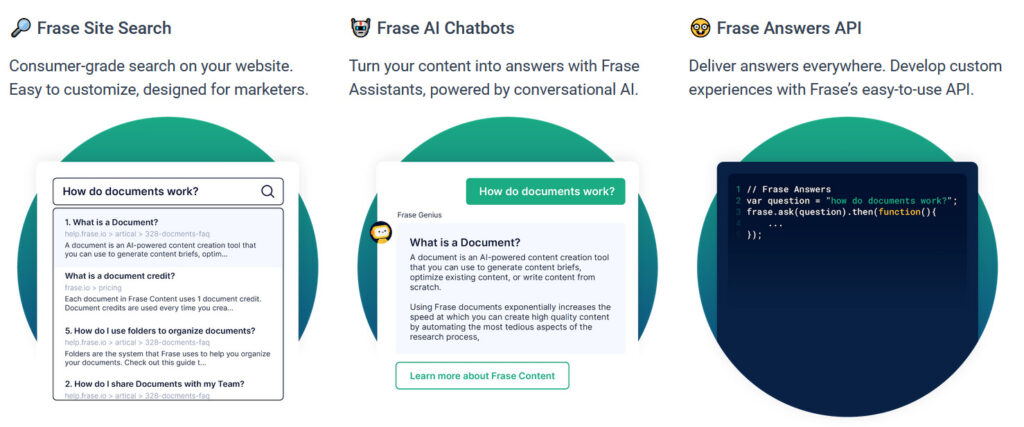 Using user intent data, you may optimize your knowledge assistant's performance. Users' geolocation, click-through rates, and ratings will be displayed for each question.
3. Content score
The content score is something like an automatic score assigned by Frase. You can see on the below screenshot, our score is 51% and suggested keywords that are covered by top-ranking websites. The score can be improved by adding more organic keywords and headers. The article readability also is should be considered as a content creator.
The higher your score, the better your chances of winning the SEO battle. There is a yellow mark on the scoring board which is the average score of the article. To get better traction from search engines, we have to move our score after the average breakpoint.
When coming into the review of Frase.io, I can point out some drawbacks too.
👎Negative aspects
Every SEO, content creation tool has its own pros and cons. I can say some of the cons of the Frase.io website.
The Answer Engine plan has a monthly answer restriction.
A plan for the Frase engine
500 copies per month might quickly exhaust a website with 20,000 monthly visitors (and assuming the average web user asks four or five questions).
Frase's plans also don't include keyword data. Keep in mind the lock symbol you saw earlier on?
The free plan is limited to 7days
Additional Reads: Best Camtasia alternative
Affiliate programs that pay daily
Frase Review: How Is Frase Different From Other SEO Tools?
There are some powerful features that I particularly like.
Chatbot and content tool powered by AI
Automate the creation of content briefs and the answering of website users' questions without the need for any manual labor.
You've probably seen comparisons between Frase and other SEO tools like Ahrefs and Clearscope.
Having employed these software solutions in your freelance writing career, these comparisons are apples to oranges. In terms of specific features, they're both aimed toward SEO, but they're very different.
SEO toolkit Ahrefs is a one-stop-shop for all things SEO. When it comes to tracking backlink growth, analyzing your SERP history, and researching keywords, it's the best on the market.
Clear scope excels at optimizing on-page search engine optimization. Important keywords are suggested for your blog post to make it more relevant for what readers are searching for on the web. When it comes to optimizing on-page SEO, Clearscope shines.
Having compared these SEO tools, let's take a closer look at today's top contender, Moz Local SEO.
Pricing Plans for Frase
Does Frase.io offer free plans?
Yes, there are.
The trial plan is available for 7 days, however, you must provide your credit card details, and you can cancel the subscription at any time within that time. You can review Frase thoroughly within 7 days.
Cool right? 😊
In the past, they offered 5-article analysis monthly; Right now, they do not offer anything of the sort.
You will no longer have to worry about Frase because it is an awesome tool that will change everything in blogging.
Frase starts at $44.99/month if you pay for it in full every year you will get 15% off.
Only one user and 30 documents per month are included in the package price of the service with limited AI writing assistant. It's ideal for freelance content marketers and small business owners that work on a few assignments a month.
The Growth and Answer Engine plans may be a better fit for agencies and businesses that produce content daily.
The free trial contains the following features:
Research on any questions
There are five documents. (Note: Creating a single article or optimizing an existing article counts as one document.)
Using Google Search Console as a starting point
A 7-day test of One Answer Engine
Final words on Frase Review:
Is Frases Worth It?
The Frase platform is an excellent tool for developing content briefs. It would reduce creation time by at least half. We spend a considerable amount of time on content planning, review, final submission. Our ability to process content is becoming more efficient after the advancement of the internet and tools. The remarkable technological advances are in Artificial Intelligence itself. Moreover, we have reduced the delivery time as well as improved our performance. Nowadays, content creators are searching for a one-stop solution that can handle all of their needs, from content briefing to analyzing articles, to ranking articles according to SEO, to adding questions and answers that help users.
If you are interested in this tool, sign up for the free trial first. It will give you the right insights. I can assure you that this tool will never let you down.
Recent Articles: Is Linktree safe to use?
13 Untouched niche markets